2008 Hall of Fame Honoree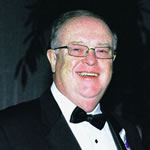 President and CEO
Country Club Services, Inc.
A 1971 graduate of the Stillman School of Business at Seton Hall University, Hughes was a member of ROTC and the Pershing Rifles. While at the University, he founded Country Club Services and incorporated the company in 1973 after completing his active duty commitment to the US Army.
Country Club Services provides a broad range of parking and transportation services to clients locally and nationally. The services range from traditional valet parking at a local dining establishment to managing and planning all parking and busing for major events such as the U.S. Open Golf Tournament. Notable clients include the United States Golf Association, Rutgers University, St. Barnabas Medical Center, Augusta National Golf Club, the PGA, United States Military Academy at West Point, Robert Wood Johnson Medical Center and the Prudential Center. In 1975 he co-founded Country Club Transportation Services, a mid-sized ground transportation company based in Newark, N.J., that serves several Fortune 500 companies in the metropolitan area.
Hughes and his wife, Lorraine (B.S. '72/M.B.A. '81), have been long-time supporters of Seton Hall through the University Annual Fund and the Pirate Blue Athletic Fund. Hughes served as chair of the Many Are One Alumni Awards Gala Committee, coordinator of the Seton Hall Alumni Recruitment Program (SHARP), chair of the Stillman School of Business Alumni Golf Outing, president of the Alumni Association and as a member of the Alumni Board of Directors. In 2004, the University honored him with the Alumni Association Service Award. He has been a basketball season ticket holder for the last three decades, and is currently a member of the University Advisory Council and the University Board of Regents Athletic Committee.
In addition, Hughes is a member of the Millburn-Short Hills Chamber of Commerce, the Regional Business Partnership Building Business for a Greater Newark, the National Parking Association and the Stadium Managers Association.
Hughes and his wife reside in Summit, where they are dynamic members of their community. An avid golfer, he is a member of Canoe Brook Country Club. He is also an active supporter of the Scholarship Fund for Inner City Children and serves on the committee of the E.C.H.S. Scholarship Fund for Catholic High Schools.