2013 Entrepreneur Hall of Fame Inductee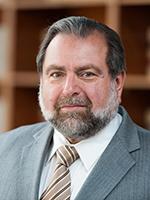 Co-founder
Fleetwash, Inc.
Jim DiCarlo embarked on a successful career as an entrepreneur while a student at Seton Hall University from 1969 to 1974. Along with his Tau Epsilon Phi fraternity brother, Vito DiGiovanni, DiCarlo started a truck-washing business to pay for his education. Their company has grown from a one-truck operation located at a friend's gas station into $90 million Fleetwash, Inc., the nation's largest provider of professional truck-washing services. Based in Fairfield, New Jersey, Fleetwash employs over 1,200 people at 50 locations in 43 states. Clients include Fortune 500 corporations FedEx, Ryder, UPS, Walmart and Target.
DiCarlo's partner of 40 years, Vito DiGiovanni, describes Jim as an engineering genius and true visionary. In the 1980s, when the Environmental Protection Agency began to require clean water disposal for all commercial vehicle washing, DiCarlo was at the forefront of developing wastewater filtration and vacuum systems that have been adopted as industry standards. DiCarlo holds a patent for the innovative technology he has created. He has also worked with New Jersey, Pennsylvania and Texas to assist these states in the development of local regulations for wastewater recycling.
As the company's environmental compliance officer and safety director, DiCarlo is in charge of Fleetwash's environmental compliance, permitting and registration of all company facilities nationwide. In 1996, DiCarlo and his partner were recognized for their efforts as recipients of the prestigious Ernst & Young Entrepreneur of the Year award.
In addition, DiCarlo has created custom cleaning and water recycling equipment for some of Fleetwash's more unusual projects, including cleaning a defunct Weehawken railroad tunnel, Port Authority Path Stations, and the flooded Hoboken train station after Hurricane Sandy.
DiCarlo is actively involved in the entrepreneurship program at Seton Hall as a Pirates Pitch New Venture Competition judge and a classroom lecturer. In his spare time, he enjoys working on his 57 T-bird, tinkering with model trains and playing the drums.
He and his wife, Mary, reside in Newton. The couple has three children and four grandchildren.