2014 Entrepreneur Hall of Fame Inductee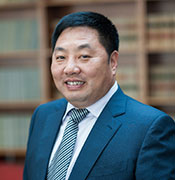 Owner and President
Meichen Group
Huichen Xu is a graduate of the Stillman School's Shanghai MBA program, and has been an entrepreneur for more than 20 years. His company, which was founded in 1993 as Heavylong Group, recently reorganized and changed its name to Meichen Group.
The main business of Meichen Group includes research and development of engineering machinery, metallurgy machinery, mining machinery, coal machinery, international trade, real estate development, and international education. The company is headquartered in Anshan, in northeastern China.
Meichen Group's machinery equipment includes crawl scrap handlers, furnace breakers, crushers, slag removal machines, hydraulic lifting platforms, road cleaning machinery, and machinery for mining and transporting coal. Overall, Meichen makes more than 60 kinds of products, which are widely used in fields that include metallurgy, mines, ports, petroleum, chemical, power and coal mining industries. The Group owns more than 30 proprietary technologies.
Meichen Group owns two companies located in the United States, Phillips Machine Service, Inc. and TerraQuip Construction Products, Inc. Phillips Machine Service, Inc., which is headquartered in Beckley, West Virginia, has factories in Kentucky, Tennessee, Colorado and South Africa.
The products of Phillips are Continuous Miner, Shuttle Car and other coal mine machinery. TerraQuip Construction Products, Inc., which is located in Charleston, West Virginia, manufactures Terramite-brand multifunctional machinery and road cleaning machinery. Xu's goals for his U.S. subsidiaries are to expand their product lines and increase international sales.
Xu resides in Anshan with his wife, Lihong Liu. His daughter, Hanni Xu, is a college student at the University of Oregon.