Entrepreneur Hall of Fame Inductee
Corporate Group Chair and Executive Committee Member, Gibbons P.C.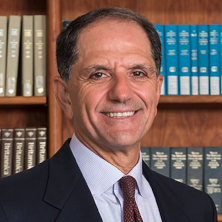 Frank Cannone, who was featured on ROI-NJ's 2020 "Influencers Power List: Lawyers," a compilation of legal professionals with the greatest influence on business in New Jersey, is Chair of the Corporate Group and a member of the Executive Committee at Gibbons P.C., one of the country's largest law firms. With his exceptional leadership skills and expansive corporate transactional experience, Mr. Cannone has brought great opportunities to Gibbons by creating one of the region's top Corporate practices. Since joining the firm, he has built and led the Corporate Group to nearly 1,000 transactions totaling billions of dollars in value. Under his direction, Gibbons has become known for its complex and sophisticated transactional work and strong capital markets-based approach to corporate practice making it unique among New Jersey headquartered firms. He led the Gibbons Corporate Group to six consecutive years of rankings on the DOW JONES Private Equity Analyst lists of the nation's "Most Active Law Firms" in private equity transactions, as well as recognition on the National Law Journal's inaugural "Midsize Hot List" for its experience handling "major transactions for midmarket companies and middle market deals for major companies."
In 2004, while an equity partner of a thriving legal practice in the New York City office of a global law firm, Mr. Cannone saw an opportunity to take a sophisticated, full-service corporate practice and devote it to the middle-market. Contrary to industry opinion at the time and at some career risk, he executed his plan and joined Gibbons as Chair of its Corporate practice. Since that time, he has more than accomplished his goal. His plan was multifaceted: combine excellence in the legal and business aspects of transactions, build an attorney team recruited from top-tier firms and a network of like-minded business professionals, and maintain significant engagement with the business world, including deep relationships with various trade organizations. Mr. Cannone has led the expansion of the Corporate Group's services and value-added offerings in anticipation of and response to emergent market developments and evolving client needs. Among many other focus areas, he established the Corporate Group's practices in governmental transactions, enabling the firm's increasing involvement in public-private partnerships (P3); renewable energy finance, to advise clients in connection with the funding of energy projects, particularly solar; and early-stage businesses, to advise investor and entrepreneur clients in connection with venture capital and other financings and transactions that emerging companies undertake as they grow, mature; and expanded its practices in cross-border transactions, to assist international clients making acquisitions and investments in the U.S. and U.S. clients doing the same in international markets.
Mr. Cannone's own practice is focused on mergers and acquisitions, private equity, early-stage and emerging growth, and corporate and securities law. He has extensive experience representing clients in connection with public and private capital raising, private equity, venture capital, mergers and acquisitions (in middle market transactions), P3/government transactions, alternative energy finance, corporate healthcare, venture capital transactions, and cross-border transactions. He has led clients in such significant matters as: the privatizations of the NJ Lottery and New Jersey's racetracks; split-up and spinoff of the University of Medicine and Dentistry of New Jersey; structuring of the $34 billion Alternative Investments Program for New Jersey's $80 billion state pension funds; structuring of the newly created $28 billion Police & Firemen's Retirement System of New Jersey; and the rental car industry's first P3 financing structure for the development of a $500 million Consolidated Rent-A Car facility at Newark Airport, where Mr. Cannone served as lead counsel to the rental car industry, including Avis Budget, Hertz, Advantage, and Enterprise.
Recently, as the pandemic hit in 2020, Mr. Cannone went into action to keep his team delivering excellent legal service, mobilizing the fully remote Corporate Group to seamlessly collaborate while he continued to directly advise his clients on their now remote-only transactions. For example, he and his team addressed the U.S. law part of a global team headed by Deloitte Legal, in advising renowned lifestyle brand, Birkenstock, on its $4 billion sale to L Catterton, the largest global consumer-focused private equity firm. Deloitte Legal announced at signing, "Thanks to the interdisciplinary cooperation of Deloitte Legal's legal advisors…and Gibbons for U.S. law…all relevant aspects for this complex transaction were fully covered." Mr. Cannone also led the representation of Figur Machine Tools in its December 2020 sale to Desktop Metal, coupled with the December 2020 SPAC reverse merger of Desktop Metal, valued at $1.5 billion, and tied in 2018 as the fastest growing "unicorn" in U.S. history.
The market for business legal services has been continually changing during Mr. Cannone's 25+ year career, with the rate of change accelerating in recent years, largely due to globalization and massive technological advances affecting all businesses. Mr. Cannone recognizes, however, that what it takes to become a trusted transactional lawyer to leading businesses, their owners, and other stakeholders is essentially unchanged: that attorney must be highly competent, dedicated, truly interested in clients' businesses and significant, often life-changing, transactions, and readily available at all times to meet clients' needs.
Mr. Cannone is an honors graduate of Boston College and Seton Hall University School of Law and is admitted to practice in New York, New Jersey and Pennsylvania. He is listed in Best Lawyers®, New Jersey Super Lawyers, and the Chambers USA Guide to America's Leading Lawyers for Business. Outside of Gibbons, Mr. Cannone is a member of the Board of Visitors (Board of Trustees) for the Seton Hall University School of Law and the Board of Advisors for the Seton Hall University Stillman School Center of Innovation and Entrepreneurship. He is actively involved in the Association for Corporate Growth (ACG) and the New Jersey Italy Trade Council, for which he previously served on the Executive Committee. He also enjoys competing in endurance events: marathons, triathlons, and Ironman competitions.
Mr. Cannone lives in Westfield with his wife, Emily. They have two children, both Boston College honors graduates. Emily, a graduate of NYU, (and a wicked pickle ball player!), had a career in Public Relations and Investor Relations before Madelyn and Nick were born. Madelyn, a Registered Nurse at the Children's Hospital of Philadelphia, (and a Certified Pure Barre instructor!!), is currently earning her degree as a Pediatric Nurse Practitioner at the University of Pennsylvania while working full time, and Nick is a Certified Public Accountant in the New York City office of PWC (and a Certified Fitness Instructor!!!) and received his Masters in Accounting from the Stillman School of Business.