2008 Hall of Fame Honoree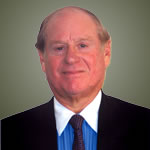 Thermwell Products Co., Inc.
President and CEO
A 1963 graduate of the Stillman School of Business at Seton Hall University, Gerstein is the president and CEO of Thermwell Products, America's largest manufacturer of packaged weatherstripping products, sold under the Frost King brand. Overall, Thermwell manufactures more than 1,000 hardware and houseware goods, which can be purchased at Home Depot, Lowe's and thousands of hardware stores nationwide. NJBiz has named Thermwell, whose headquarters are in Mahwah, N.J., among the 100 largest private companies in New Jersey.
In addition to his responsibilities at Thermwell, Gerstein is very active in the professional sports industry. For many years, he was the principal owner of the New Jersey Nets, the NBA professional basketball team, and is currently a board member. He also serves on the board of directors of the Yankees Entertainment and Sports (YES) Network and the New York Yankees.
Gerstein is a member of the Seton Hall University Board of Regents and has been honored by the University on many occasions for his outstanding dedication to the University. He is the recipient of the Many Are One Most Distinguished Alumnus Award. Gerstein also has been elected to the University's Athletic Hall of Fame and honored by the Seton Hall Law School. Additionally, he was one of the founders of the Pirate Blue Athletic Fund.
Gerstein supports and has been honored by a host of charities, including the American Cancer Society, City of Hope, Paterson Policemen's Benevolent Association, and the Crohn's & Colitis Foundation of America.
Gerstein is an avid swimmer, having participated in many marathon swim events around the country. He and his wife, Jane Ellen, reside in NYC and have two sons, James, and Mark; Mark is a professor at Yale University.