Entrepreneur Hall of Fame Inductee
President and Owner, Fusion Health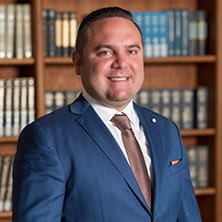 Bryan Jakovcic has built Fusion Health from a college startup into a national health software provider for the corrections industry and other government run agencies. The company manages the health records of 350,000 inmates daily, the largest vendor of its kind, and oversees 100 employees.
Headquartered in Woodbridge, N.J., Fusion Health has grown rapidly with no outside investments, and for the past four years has been recognized by INC. magazine as one of the fastest growing companies in the United States. The company is ranked the state's ninth fastest growing private venture, and Fortune magazine named it one of the Best Places to Work in the New York Metro Area. Fusion Health recently acquired Kalos Inc., a leader in pharmacy management solutions that is nationally recognized for its proven software in retail pharmacies, universities and correctional facilities.
An outstanding entrepreneurial leader, Jakovcic received an Ernst & Young New Jersey Entrepreneur of the Year award in 2020 and is an NJBiz 40 Under 40 winner. While a student in the Stillman School of Business studying finance, Jakovcic served as president of the Entrepreneurship Club and was a member of Phi Beta Lambda, the oldest and largest student business organization.
Growing up in an entrepreneurial family in Lincroft, N.J., Jakovcic began his first business in fourth grade, and launched his first legally registered business at the age of 14 with a $500 check from his parents. That venture, Surfer Internet Services, Inc., focused on selling electronic peripherals, building custom computers, and developing websites. Jakovcic attributes his love of business and his entrepreneurial spirit to his parents, who emigrated from Croatia to the United States. Bryan's father is an entrepreneur in the logistics industry and his mother, though not an entrepreneur, played a huge role through her support of his endeavors.
Jakovcic is especially proud of his efforts to foster an innovative and empowering workplace culture that delivers outstanding results. At Fusion Health's sleek 20,000 square foot headquarters, employees are "Fusionites" who can work at treadmill desks, and build camaraderie with their colleagues on work breaks with office scooters, a gaming arcade, a meditation room and a gym. In addition to its "best workplace" accolade from Fortune magazine, Fusion has earned a Great Place to Work Certification, based in part on 95% of employees giving the workplace high marks versus 59% at a typical company.
Jakovcic is an active Seton Hall alumnus, serving on the Board of Advisors for the Center of Innovation and Entrepreneurship. He is a frequent classroom speaker, often serves as a judge in the University's Pirates Pitch contests, and enjoys mentoring students and recent graduates who are launching ventures. Jakovcic has made a commitment to give back to the Stillman School by creating the Bryan J. Jakovcic Fund, which provides entrepreneurial students with investment seed grants for their startup ventures and supports an array of other programs that encourage student entrepreneurship.
Jakovcic, his wife Marissa, and their two young children, Madeline and Joseph, reside on a small farm in Tewksbury where they raise donkeys, goats and chickens, and enjoy spending summers at the beach. Jakovcic has also served as an officer in his community's volunteer fire company. In addition, Jakovcic is an avid "tinkerer" who enjoys restoring vintage sports cars.