2009 Hall of Fame Honoree
Former President, Key Pharmaceuticals
Former Vice Chairman, Kos Pharmaceuticals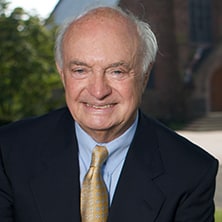 For half a century, Bob Baldini has put his marketing talent and leadership skills to great use in the pharmaceutical industry, and now as an entrepreneur working with four start-up companies.
Bob attended Seton Hall University on a full soccer scholarship and during his four years at the University, received several honors for academic achievement. An involved student, Bob was also a member of the Knights of Setonia, a student group devoted to daily Mass in the Chapel. After graduating with a B.S. in marketing in 1953, he went on to earn an M.B.A. from New York University. Bob began his career at Pfizer and then at Ciba- Geigy (C&G). He spent 20 years at C&G, starting out in marketing research and product management and later directing an innovative in-house marketing advertising agency, which became one of the strongest shops in medical advertising.
Bob rose through the ranks to top executive positions at both Pfizer and C&G, but not one to rest on his laurels, he left C&G in the early 1980's, to join then little-known Key Pharmaceuticals. At this small start-up, he served as senior vice president of sales and marketing. There, he built a legendary sales and marketing organization and was responsible for the development of the innovative cardiovascular products, K-Dur and ImDur. Under his leadership as president at Key -- which by the mid-80's had been acquired by Schering-Plough -- sales experienced phenomenal growth and the company became known as a leader in developing new drug delivery systems and one of the most aggressive and innovative marketing companies in the industry. From 1996 - 2006, Bob served as sales and marketing chief and later vice chairman at Kos Pharmaceuticals. There he oversaw all sales and marketing functions. He put products like Niaspan and Advicor on the map, while also serving as the vice chairman for Ascent Pediatrics.Throughout his career, Bob has been devoted to the advancement of marketing within the pharmaceutical industry. In this pursuit, he has authored articles for Pharmaceutical Executive and Medical Marketing & Media.
A dedicated supporter of Seton Hall for many years, Bob is a University Regent and has been honored as a Most Distinguished Alumnus, the Alumni Association's highest honor. Bob has also been honored as The Arthritis Foundation's Humanitarian of the Year and in 2008, he was inducted into the Medical Advertising Hall of Fame. In all, Bob has been involved in the development, launch and management of 27 major pharmaceutical products as well as in the launch and development of numerous careers. He now serves on the boards of several pharmaceutical companies and organizations, in addition to being involved with four start-ups: Accu-Break Pharmaceuticals, Ascio Pharmaceuticals, DermWorx and Arisaph Pharmaceuticals. When asked about retirement, Bob enthusiastically shared that he never plans to retire.