Beatriz Manetta, M.S.I.B. '98
2015 Entrepreneur Hall of Fame Inductee
President and CEO
Argent Associates, Inc. and Asociar, LLC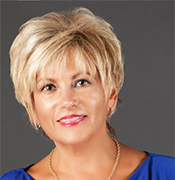 Beatriz (Betty) Manetta emigrated from Argentina to Elizabeth, New Jersey, when she was a young girl. Education is key for entrepreneurs, thus she pursued an education as a competitive advantage. She has a Bachelor of Science degree in marketing and accounting from Rutgers University and holds a master's degree in international business from Seton Hall University, where she received the Beta Gama Sigma Award for contributing significantly to the vitality and strength of the economy, combining business achievement with service to humanity.
She worked in corporate America for 20 years. The knowledge, skills, training and assignments in human resources, sales, technical support, quality management, and focus on both national and international were great tools for an entrepreneur. In addition, key personal networks and relationships had been woven and were a critical element in helping to create Argent Associates, Inc. and Asociar, LLC.
Argent Associates was launched in 1998 and Asociar in 2012 both under the helm of Manetta as President and CEO. Both Argent Associates and Asociar have built a reputation by having and maintaining an impeccable reputation for quality and work ethic as well as working towards exceeding customer expectations in all they do. This is a critical element in being able to grow and sustain a business.
Manetta's success is interdependent to the success of the communities. Social responsibility is taken seriously to ensure that education and economic prosperity are still part of the American Dream. She believes it is important to support and serve the community; to be an advocate for minority, women and small businesses. To that extent, she has shared her perspectives and expertise with many organizations. Manetta serves on the Seton Hall University Board of Regents, the Fairleigh Dickinson University Supply Chain Management Advisory Board, the Greater Dallas Hispanic Chamber of Commerce Board of Directors and the Women's Business Council Southwest Board of Directors. She served on the President's Export Council (PEC), which advised President G.W. Bush on international trade matters and its impact on small, women and minority owned businesses. She currently serves on the board of the United States Hispanic Advocacy Association and QuEST Forum where she is an executive contributor focusing on small business and sustainability issues as it relates to quality. Manetta is an active participant with the National Minority Supplier Diversity Council, Hispanic Chamber of Commerce, Women's Business Enterprise National Council, and the Women's President Organization.
Manetta has received numerous awards from local, state, federal, corporate and nonprofit organizations for her leadership and commitment to community. Her most recent awards include:
Minority Business Leadership Award - Dallas Business Journal
#1 Women Owned Business in North Texas - Dallas Business Journal

AT&T Outstanding Supplier Award

WBENC She Rocks Award

EY Argent Associates &Asociar Finalist for Entrepreneur of the Year Southwest Region

WPO: One of the 50 Fastest-Growing Women Owned Companies

Enterprising Women Award, Over $100 Million

Best 50 Women in Business - NJBIZ

Institute of Entrepreneurial Leadership Emerging Entrepreneur Award, John F. Kennedy University

Tech Titans CEO Award