Outcomes for M.S. in Accounting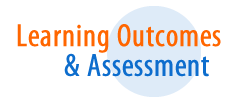 Seton Hall University embraces the principle that effective and meaningful assessment is an integral part of the educational process. This principle is at the heart of our commitment to meet our responsibilities to our students, professions, and the communities that we serve.
University Assessment Site »
Goals:
To provide technical knowledge regarding financial statement presentation and proper recognition of its elements within the framework of generally accepted accounting principles.

To provide an understanding of the internal reporting responsibilities of a manager including capital budgeting, cost systems, performance evaluation, and profitability analysis.

To provide a solid foundation in the auditing profession, the audit process (including application to business cycles) and other assurance services.
To provide exposure to basic areas of taxation for individuals.
To provide a foundation in the regulatory and legal environment surrounding business practices.
To provide strong research skills in financial accounting.
To provide a foundation in the uniform commercial code.
To provide exposure to basic areas of taxation for business entities.
To provide exposure to an array of advanced accounting topics, including but not limited to international accounting, accounting information systems, and financial statement analysis.
To provide written communication, presentation, technology, and analytical / problem solving skills necessary to begin an accounting career
To help students recognize and respond to ethical issues that they might confront.