Outcomes for the M.B.A. Program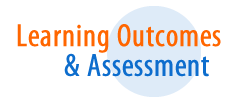 Seton Hall University embraces the principle that effective and meaningful assessment is an integral part of the educational process. This principle is at the heart of our commitment to meet our responsibilities to our students, professions, and the communities that we serve. University Assessment Site »
Goals:
Functional Knowledge of Business Enterprises - to demonstrate a fundamental understanding of functional areas in business and a deeper understanding in one's concentration; to be able to apply this knowledge in an integrative manner to effectively develop solutions for business enterprises.

Analytical and Critical Thinking - to be able to identify relevant issues, apply qualitative and quantitative problem solving tools, and recommend appropriate actions in analyzing business problems.

Change Management - to be able to anticipate, identify and respond to changes in the global, local and internal business environments; to strategically leverage the forces of changing opportunities.

Communication - to be able to write, speak, and present effectively and persuasively in a wide variety of business settings with diverse audiences.

Teamwork and Leadership - to be able to work collaboratively and effectively in a diverse and multi-functional team environment; to enable students as leaders who can inspire others to achieve their fullest potential.

Technology - to understand how technology is used to support business decision making and system applications; to be skilled in the use of information technology resources.

Ethics and Social Responsibility - to be aware of ethical and social responsibility issues and their implications on business decision making; to develop an ethical mindset; to proactively identify, evaluate and address ethical challenges.