Outcomes for B.S. in Finance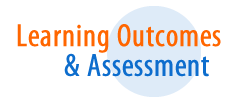 Seton Hall University embraces the principle that effective and meaningful assessment is an integral part of the educational process. This principle is at the heart of our commitment to meet our responsibilities to our students, professions, and the communities that we serve.
University Assessment Site »
Goals:
Change Management - Ability to be flexible in examining issues, ability to handle stress, ability to change strategies given new circumstances or information.


Communications - Ability to express one's position logically, succinctly, and using correct grammar, both orally and in written form, in both structured and ad-hoc business settings, ability changes one's communication style given the audience.


Critical Thinking - Ability to identify and analyze alternatives in a business context and to articulate and defend a course of action.


Ethics and Social Responsibility - Ability to recognize and understand the accepted principles of right and wrong governing the conduct of business people and the ability to recognize and consider the social consequences of economic actions when making business decisions, given a presumption in favor of decisions that have both good economic and social consequences.


Teamwork - Ability to manage teams effectively, including dealing with performance issues to produce a quality product on time.


Technology - Ability to use technology to research and add value in presentations including preparing professional reports, business communiques, and oral presentations.