Meet Our Alumni: Stephen A. Lovelette '95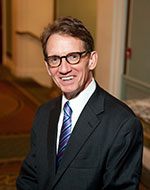 Stephen A. Lovelette '85
President
JMB Financial Advisors, LLC
Stephen Lovelette grew up on Cape Cod, and, after graduating from The College of the Holy Cross, moved to New Jersey in 1978. He began working at Midlantic National Bank, and attended the Stillman School of Business, where he received his M.B.A. in 1985. Stephen continued working at Midlantic National Bank in the National Division, where he called on major relationships around the country and dealt with financing casinos in Atlantic and City, until 1986, when he joined Arvida/Disney Corporation in Florida.
Soon after, JMB Realty Corporation purchased Arvida's assets and offered to the public in a publically owned partnership, at which time, Stephen was transferred to Chicago as an officer of the general partner. Approximately 10 years ago, JMB Realty Corporation's debt capital group was spun off into JMB Financial Advisors, where Stephen managed the capital raising for JMB Realty Corporation and various affiliates.
JMB Financial Advisors, LLC is active in the private and public debt markets along with opportunity funds and hedge funds. They also provide capital to third-party real estate owners, investors and developers. JMB Financial Advisors, LLC provides over $1 billion in financings annually. In his capacity as President, Stephen raises funds for the Rush Street Gaming properties, i.e., The Sugarhouse in Philadelphia, The Rivers Pittsburgh, The Rivers in Des Plaines, Illinois, and the newest property being built in the Capital Region of New York – The Rivers Casino and Resort at Mohawk Harbor.
While in Chicago for nearly 30 years, Stephen has been active with the Seton Hall Club of Chicago (which has grown significantly) and the various activities and fund raising done on behalf of the club, Seton Hall, and charitable organizations. As a past recipient of the Stillman Alumni Award at the Many Are One Dinner, he has remained active in supporting the Immaculate Conception Seminary at Seton Hall University.
Stephen and his wife Margy have three grown children, Patty, Stephen and Thomas. Although they are not Seton Hall graduates, they enjoy the school spirit and attend local Pirate games whenever possible. He lives in Northbrook, Illinois, and spends his summers in Dennis, Massachusetts.