Meet Our Alumni: Gerald P. Buccino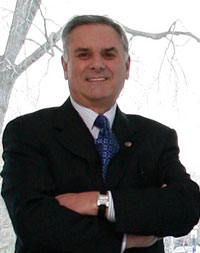 Gerald P. Buccino '63
President and Chief Executive Officer
Buccino & Associates, Inc.
"I look back at my wonderful journey and continue to realize that all my good fortune began at Seton Hall. I am very grateful for the outstanding Catholic education I received and the direction that Seton Hall provided me as I journeyed through a competitive business world. I learned that you can conduct business ethically at the very highest levels and still succeed."
Gerald Buccino's accounting degree from Seton Hall helped prepare him to provide innovative business solutions to clients as a leader in the turnaround management profession. He founded Buccino & Associates, Inc. in 1981. Since then, he has consulted with business leaders, lenders, creditors and other economic stakeholders to improve cash flows and enterprise values. For more than 30 years, Buccino's expertise has led to an array of successful business turnarounds and reorganizations.
Buccino has worked with companies ranging from middle-market businesses to major, publically traded corporations. Some of his positions have included chairman, president and CEO of FineHost Corporation, a $400 million NASDAQ food service company; senior vice president and chief administrative and financial advisor for a NYSE company with 50,000 employees and CFO of a $200 million international NYSE company.
Despite his busy schedule, Buccino finds time to give back to both his alma mater and the community in many ways. In 1990, he founded The Buccino Foundation, which funds medical research and education and provides financial assistance to help battered women, the handicapped and the homeless. In 1996, he created an endowed scholarship at Seton Hall University's Center for Leadership Studies. To date, 17 students have benefitted from his financial generosity in addition to personal career mentorship from Buccino himself. In addition to his scholarship endowment, Buccino recently made a $1 million gift commitment that will expand the reach of the Leadership Development Honors Program at the Stillman School of Business. Buccino also serves on the Seton Hall's Board of Regents as a regent emeritus.
In recognition of his professional achievements, dedication to charitable causes and unwavering support of the University, Seton Hall presented Buccino with its 2014 Many Are One Most Distinguished Alumni Award.