Graduate
Executive Master of Arts in Education (M.A.E.) or Education Specialist (Ed.S.)
Education Leadership, Management and Policy
The Executive Master of Arts in Education (M.A.E.) program and the Education Specialist (Ed. S.) program in Education Leadership, Management and Policy program are ideal for working professionals who wish to pursue the following specialty areas in educational administration: School Superintendent, School Principal, Supervisor, Director, Special Educational Leader, Charter School Leader, Bi-Lingual Education Leader, and Catholic School Leader.  This accelerated, 39-credit, blended/hybrid program is offered through a cost-effective and convenient schedule providing weekend on-campus and online course offerings.
Want to Learn More?
Attend a virtual information session, where you'll receive an overview of the program, meet our faculty and ask questions. Plus, attendees receive an application fee waiver just for attending!
The Program
This program allows students to earn an M.A.E. or an Ed.S. degree (if student already possesses a master's degree) within a two-year, accelerated time frame. Classes are taught by outstanding Seton Hall professors and special visiting faculty practitioners, who are experts in their fields. This program meets all NJDOE requirements to apply for Principal, Supervisor, and School Administrator Certification, has state to state reciprocity, and is nationally recognized by the Council for the Accreditation of Educator Preparation (CAEP).
M.A.E. and Ed.S. cohorts complete 18 credits through on-campus courses (one per semester); 15 credits via online courses; and, six credits of administrative internship. On-campus classes meet two weekends per semester during the fall, spring, and summer semesters on Saturday and Sunday. The curriculum explores the intersections of theory and practice to prepare aspiring leaders as change makers. Courses receive 40% discount off the standard graduate tuition rates.
Evening and Weekend Administrative Contact Number for more information: (862) 216-8592
Resources:
A Call to Education
Seton Hall's Education Leadership graduate programs offer educators a chance to to serve students on a higher level.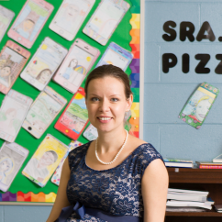 "I was accepted to three other schools, but Seton Hall's authenticity struck me immediately. You are part of a community of learners – with the support of faculty and fellow students to guide you beyond your own expectations. It's not easy, but they make it manageable. It may take longer, but the return on professional development is greater. It's not a lonely journey at Seton Hall."

Daria Pizzuto, M.A. '13, Ph.D. '18. Fulbright Research Scholar '17
Faculty
The faculty in the College of Human Development, Culture, and Media are expert researchers and practitioners in teacher and leader preparation as well as professional psychology and family therapy. Many are actively engaged with schools and community agencies, modeling best practices to their students in the university classroom and in the field. Collaboration within departments and across is encouraged with the recognition that supporting and improving the lives of children, families and communities is a complex process.
Take the Next Step
The College of Human Development, Culture, and Media is dedicated to ensuring that its professional preparation programs are based on essential knowledge, evolving technology, research findings, and reflective practice. Each program is committed to developing collaborative relationships and cooperative efforts with schools, agencies, and institutions so that its efforts remain linked to the world of practice and research, and meet the needs of communities. The College is nationally accredited by three professional associations: APA, COAMFTE, and CAEP.
Request more information:
Loading USE THIS - GRAD Education Inquiry...