Graduate
Master of Science (M.S.N ) / M.B.A.
Health Systems Administration
The College of Nursing and the Stillman School of Business — recognized leaders in their fields — collaborate to offer this joint-degree program, which provides both the clinical knowledge and the business skills nurses need to excel as managers and executives. As the world advances and health care continues to change, administrative roles demand more complex skill sets than ever: teamwork, global thinking, multitasking, creativity, flexibility. The M.S.N. /M.B.A. emphasizes all these qualities and provides crucial management and leadership skills. This combined program offers both full- and part-time options and can be completed full time in three years. Graduates receive both an M.S.N. and an M.B.A.
Resources:
Clinical Clearance Requirement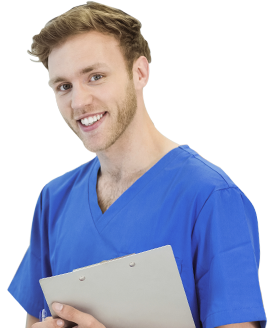 "Seton Hall's joint degree program should be a prerequisite to work in today's ever-changing healthcare environment."

Alan Levin, M.S.N. '02/M.B.A. '02Vice President of Nursing/Patient Care Services, New York-Presbyterian Hospital
M.S.N. /M.B.A. students take 24 credits within the College of Nursing and 30 credits within the Stillman School of Business. Courses range from Nursing and Health Systems Administration to Special Topics in Management, to Financial and Economic Analysis. Students also complete two clinical internships: Managed Care and Reimbursement; and the Executive Internship in Health Systems Administration.
Faculty Listing
Our faculty members are the backbone of the College of Nursing. They connect with other professional nurses - both nationally and internationally - to stay at the forefront of nursing practice. They actively conduct research at Seton Hall, all while working with students to help them reach their full potential.
Where Nurses Are Inspired To Become Leaders
Seton Hall University's College of Nursing has a mission to educate practitioners of nursing - from baccalaureate-prepared generalists to advanced practitioners - who aspire to be innovators and leaders in the nursing profession. Established in 1937, the College offered New Jersey's first baccalaureate nursing program and is CCNE-accredited through June 2019. It established its graduate program in 1975, its Ph.D. program in 2006 and its Doctor of Nursing Practice program in 2009. U.S. News & World Report ranks the College's graduate nursing programs among the top nursing programs nationwide.
Contact Us
Sharon Venino, M.S.
Assistant Program Director, Online Nursing Programs