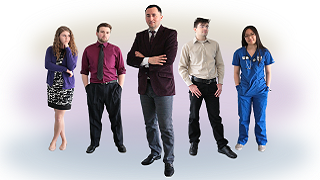 On Thursday, March 30, at 6:30 p.m., in Fahy Hall Room 236, Slavic Club presents a lecture, by Prof. Artem Kalyanov, on Intercultural Non-Verbal Communication, When Cultures Clash:
It's not what you do say, but what you DON'T say that counts…
Do you want to learn how to read and influence people through Non-Verbal communication?
Do you want to learn how to deal with Russians on a mutually beneficial basis?
Come and listen to Prof. Kalyanov's lecture on Intercultural Non-Verbal Communication & broaden your knowledge about cultural differences and body language both in Russia & America.
Prof. Kalyanov will discuss cultural diversity in international business and everyday life: body movements, body orientation, nuances of the voice, facial expressions, details of dress, time and space, gestures and other communication cues. The study of cross-cultural communication is an essential aspect for practitioners in the field of international relations.
In addition to the presentation, there will be a JEOPARDY game based on the lecture. We are going to divide into two teams and everyone will receive a prize.
Everyone is welcome! Slavic food will be served!
Categories: Arts and Culture