Graduate
Certificate
Global Health Management
The increasing occurrence of public health epidemics, concerns with bioterrorism and a pressing need for innovative approaches to health crises all point to the importance of a global approach in health management. As a student in the Graduate Certificate in Global Health Management program, you'll prepare to offer leadership in this area by developing an understanding of health governance, security and policy within a diverse and globalized world.
With our main campus just 14 miles from New York City, you'll study in a region filled with top-notch healthcare facilities including hospitals, rehabilitation centers, medical programs and research institutes. International actors – like the United Nations and a host of nonprofit organizations that are active in global health and development – will be right at your fingertips. Plus, many of the healthcare administration courses are available online.
Our supportive community and career resources will help you as you take this important step in advancing your career goals.
From Research to Real World
How does Seton Hall's global health management coursework connect to the real world? Meet Professor and Director of the Center for Global Health Studies Dr. Yanzhong Huang and find out.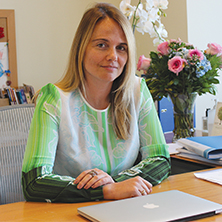 "International collaboration in healthcare enables us to learn from the experiences of other countries how we can integrate diversity into our structure. Almost 20% of our services are consumed by international patients, which indicates that there is a clear need for both understanding and efforts to meet the needs and preferences of diverse populations."

Turkan Ozilhan Tacir '15CEO of Anadolu Medical Center, Kocaeli Province, Turkey
The Certificate in Global Health Management is a 15-credit sequence of required and elective courses offered by the School of Health and Medical Sciences (through the Master of Healthcare Administration Program) and the School of Diplomacy and International Relations. This certificate program is designed to give you the tools to analyze, understand and address global issues affecting the health sector.
You'll complete required and elective coursework in areas such as emergency management, bioterrorism, population health, global impact of infectious disease, healthcare policy, ethics in healthcare administration and preventing humanitarian crises.
Students admitted to this certificate program may elect to apply their coursework toward an M.A. in Diplomacy and International Relations degree and/or the Master of Healthcare Administration (M.H.A.) degree, should they desire to pursue the full degree.
Health and Medical Sciences Core
(Choose 2 of the following, 6 credits)
HCAD 7513 Healthcare Management* (3) 
HCAD 7518 Community and Population Health* (3)
HCAD 8531 Emergency Management and Health Security* (3)


Diplomacy and International Relations Core
(Choose 2 of the following, 6 credits)
DIPL 6277 Global Health, Bioterrorism, and International Security (3) 
DIPL 6276  Global Health Governance (3)
DIPL 6280 International Health and Development (3)


Electives
(Choose at least 3 credits from the courses above and below)
HCAD 7521 21st Century Healthcare Systems* (2) 
HCAD 7522 Healthcare Policy* (2) 
HCAD 8523 Ethics in Healthcare Administration* (2) 
HCAD 7992JA Practicum / Independent Study / Real World Application* (1) 
GHMS 7316 Independent Study (1)
DIPL 7411 Journal Editorial Board Assistant (1)
DIPL 6278 Global Health Diplomacy (3) 
DIPL 6129 Preventing Humanitarian Crises (3)


*HCAD courses are offered on campus and online. Schedule varies by semester.
A comprehensive list of course descriptions can be viewed in the
graduate catalogue
. 
Admission Requirements
Applicants for the Graduate Certificate in Global Health Management must meet the following admission requirements:

Graduate of an accredited college with a bachelor's degree;

400-500 word statement of goals and career interests;

Official transcripts from all undergraduate courses and, if applicable, graduate courses;
Applicants with international degrees must have their academic records evaluated by a member agency of the National Association of Credential Evaluation Services (NACES) or the American Association of Collegiate Registrars and Admissions Officers (AACRAO);
Minimum cumulative GPA of 3.0 on a 4.0 scale in the coursework of the most recently conferred undergraduate or graduate degree (note: applicants with a cumulative GPA of 2.8-2.99 who have a minimum of two years post-degree experience in a related field are also encouraged to apply);
Three letters of recommendation; Curriculum vitae or resume; and
If English is not the native language, a student must submit a Test of English as a Foreign Language (TOEFL) documenting an Internet-based score of 90 or above. The International English Language Testing System (IELTS) can also be accepted documenting a score in the 6.5 band or above. Exception to this requirement may be granted if the applicant is a U.S. resident and a graduate of a U.S. college within the previous two years.

Application Deadlines
Applicants for the Graduate Certificate in Global Health Management may apply online at the Seton Hall University website. Applications are reviewed on a "rolling admissions" basis with the following preferred deadlines
August 1 for the Fall term
December 1 for the Spring term

Opportunity for Current Students and Alumni
Current students and recent graduates of the Seton Hall Master of Healthcare Administration program and the Master of Arts in Diplomacy and International Relations program may be able to apply earned credits toward the Graduate Certificate in Global Health Management. Submit your contact information here, and an admissions representative will be in touch with you to discuss your specific situation.

M.A. in Diplomacy and International Relations (MADIR)
Current students of the Seton Hall MADIR program who have completed courses in the School of Diplomacy and International Relations' global health specialization may apply up to 9 credits of coursework toward the certificate. MADIR alumni will have five years following their graduation to apply their previous coursework toward the certificate.

Master of Healthcare Administration (M.H.A.)
Current students of the Seton Hall M.H.A. program may be able to apply 3 credits of their coursework toward the certificate, pending approval by School of Health and Medical Sciences.

Career Resources
Students and alumni of the Graduate Certificate in Global Health Management can take advantage of the following career resources:

The Career Center at Seton Hall University
This on-campus center offers tools and resources to help you advance in your career. Students and graduates have access to many benefits through The Career Center, including:

One-on-one career counseling
Individualized career development and management plans
Online career assessments

Career events, including resume writing workshops and interview clinics
Pirate Mentor Program with access to an extensive network of thousands of Seton Hall alumni
Office of Internships and Professional Development and Office of Professional Services
Located within the School of Diplomacy and International Relations, these offices offer a wide range of services that all certificate students can utilize, including:

Career development workshops
Fellowship opportunities and application processes
Employer information sessions
Alumni networking receptions
Resume and cover letter critique
Mock interviews
Internship and job-search strategies
Unlimited access to jobs, live webinars career advice, and networking
College Central
College Central Network (CCN) is the official resume and job posting service for the School of Diplomacy and International Relations. Local employers post jobs exclusively to our School via the CCN site. Students and alumni can create their account profiles here.

Health Administration Resources
Our faculty play an integral role in helping students develop their career goals and advance themselves professionally. Our faculty members, which includes seasoned healthcare practitioners and executives, have impressive industry knowledge, experience and connections throughout the field and within the following professional associations:

Vault
Vault provides career information on a number of industries. Information includes various career guides, top employer guides, education guides, and industry and profession database and a career advice blog. Within Vault, students can also search jobs and internship opportunities; get resume, cover letter and interview tips; and get reviews and rankings of companies, schools and internship programs.

Glassdoor
Glassdoor offers company reviews for 352,000+ companies, all posted anonymously by employees.

Become a Leader in Global Health
As the World Health Organization states: "In the 21st century, health is a shared responsibility, involving equitable access to essential care and collective defense against transnational threats." Seton Hall University is meeting the growing need for skilled professionals capable of addressing the world's global health challenges and opportunities by offering the Graduate Certificate in Global Health Management.
Contact Us
Patrick McDermott
Director of Graduate Admissions
School of Health and Medical Sciences
(973) 275-2062
Daniel Kristo
Assistant Dean of Graduate Enrollment Management
School of Diplomacy and International Relations
(973) 275-2142