NEWS
Announcing first NJ college partnership with TSTT, one of the nation's leading teacher diversity mentoring programs.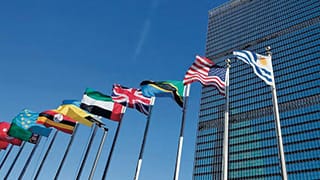 NEWS
Diplomacy Professor Martin Edwards appeared in media throughout the world on President Trump's U.N. speech, and North Korea.
IN FOCUS
Explore programs in educational studies, educational leadership, professional psychology & family therapy. Register today!
NEWS
Reverend Simon C. Kim, Ph.D., delivers a presentation about increasing integration of cultures attending parishes.
NEWS
Environmental studies students were inspired by a screening of the movie Chasing Coral and a panel of experts who spoke about ways to help protect our environment.
NEWS
Marie L. Radford and Julia Sass Rubin present on the topic of "Discursive and Demographic Dysfunction."
Visual and Sound Media Spotlight
Kevin Phalon, '17 talks about how the Visual and Sound Media program prepared him for an exciting career in news production.