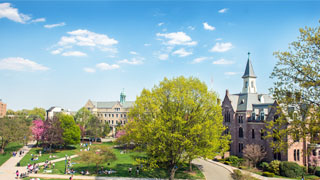 NEWS
This highly competitive grant will support faculty development workshops on "Medical Humanities: Pedagogy and Praxis."
NEWS
Bonnie Sturm, Ed.D., R.N. was recently inducted as a fellow into the prestigious New York Academy of Medicine.
NEWS
Pirates Pitch winner Christian Zeron '16 discusses how his Catholic Studies major has contributed to his company's success.
NEWS
After graduation, Graphic Design senior Paola Hegedus will pursue her faith as a missionary with Saint Paul's Outreach.
IN THE MEDIA
U.S. News & World Report
Robert Kelchen analyzes Pell Grant recipients and graduation rates.
NEWS
Samikkannu Thangavel, Institute of NeuroImmune Pharmacology, received a $2.2M NIH grant for Nuero-AIDS/drug abuse research.
Pirate Receives Homecoming Surprise
Freshman Shavar Reynolds, Jr., of the men's basketball team had gone a year without seeing his father, Shavar Reynolds, Sr., who is a Master of Arms Chief in the United States Navy.