NEWS
Center for Diaconal Formation's key leaders have been selected to present at the 50th Anniversary Celebration in New Orleans.
NEWS
Bonnie Sturm, Ed.D., R.N. was recently inducted as a fellow into the prestigious New York Academy of Medicine.
NEWS
The Seton Hall Sports Poll was featured in USA Today, the NY Daily News, Yahoo Finance, ESPN and SportsBusiness Daily.
NEWS
Mark McCoy (MBA/'15, MA/'15), discusses how his Stillman experience prepared him for his career as a banking professional.
IN THE MEDIA
Newsweek
Professor Martin Edwards discusses potential fallout of Jared Kushner's efforts in the Middle East.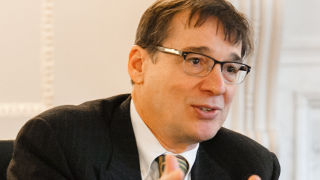 NEWS
Professor William Connell appeared on NPR's WNYC to discuss Columbus, statues and the Italian-American experience.
Pirate Receives Homecoming Surprise
Freshman Shavar Reynolds, Jr., of the men's basketball team had gone a year without seeing his father, Shavar Reynolds, Sr., who is a Master of Arms Chief in the United States Navy.