Graduate
Master of Science
Marriage and Family Therapy
Admissions Suspended
The M.S. in Marriage and Family Therapy (M.S./M.F.T) fulfills the educational requirements for dual licensure as marriage and family therapists and clinical alcohol and drug counselors. Students complete the standard curriculum as stipulated by COAMFTE while gaining a knowledge base in psychology, systemic thinking, and addiction treatment as they prepare for professional practice based on ethical principles and multicultural understanding.
The Program
The M.S. in Marriage and Family Therapy is a 60-credit program that combines foundation courses and core courses in marriage and family with 500 hours of clinical training (100 hours must be approved supervision). Seton Hall University offers the only master's program with a dual focus on marriage and family therapy and addiction treatment in the state of New Jersey.  Students in the program, who come from the United States and abroad, ordinarily complete the program in three years.  An emphasis on multicultural processes runs throughout the curriculum and clinical training.
COAMFTE accreditation for the MS in Marriage and Family Therapy will end in May 2021. Students admitted from the Fall of 2019 and after will graduate from a program without COAMFTE accreditation. This will not impact licensing in New Jersey. Graduates will still be eligible to sit for licensure as a marriage and family therapist in New Jersey. Outside of New Jersey, each state should be checked for licensing requirements.
Take the Next Step
The College of Education and Human Services is dedicated to ensuring that its professional preparation programs are based on essential knowledge, evolving technology, research findings, and reflective practice. Each program is committed to developing collaborative relationships and cooperative efforts with schools, agencies, and institutions so that its efforts remain linked to the world of practice and research, and meet the needs of communities. The College is nationally accredited by three professional associations: APA, COAMFTE, and CAEP.
The Marriage and Family Therapy Program at Seton Hall University is accredited by the Commission on Accreditation for Marriage and Family Therapy Education (COAMFTE), and approved by the New Jersey Certification Board. We are the only program in New Jersey with both of these distinctions. The master's degree qualifies students to sit for the national MFT and CADC exams to apply for two licenses (LMFT & LCADC) in the state of New Jersey, and MFT licensure in most other states.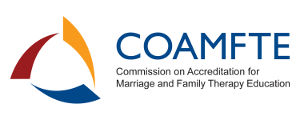 Contact Us
Diana Minakakis
Director, Office of Graduate Admissions
(973) 761-9668