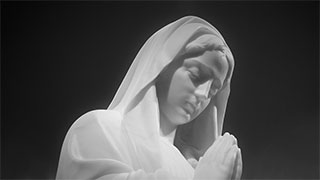 Building on the successes of its previous Advent and Lenten series, Immaculate Conception Seminary School of Theology is preparing a new video reflection series for Advent 2020. Entitled "Journeying with Our 'Mother of Advent' Throughout the World," the series will focus on titles of Mary, helping audiences to spiritually journey through the Advent season as they celebrate diverse cultures. Faculty and seminarians will offer three-minute reflections from the beginning of Advent on Sunday, November 29, through Christmas Eve, all delivered via a daily e-mail.
To subscribe to the series, visit the Advent Series registration page.
Titles will include Our Lady of Guadalupe, Our Lady of Lourdes, Our Lady of Kibeho, Our Lady of Czestochowa, and Our Lady of Fatima, among many others. Speakers include, but are not limited to, Rector/Dean Monsignor Joseph Reilly, S.T.L., Ph.D.; Associate Dean Dianne Traflet, J.D., S.T.D.; Professor Jeffrey Morrow, Ph.D.; Associate Professors Justin Anderson, Ph.D., Monsignor Gerard McCarren, S.T.D., Reverend William McDonald, S.T.L., S.T.B., and Joseph Rice, Ph.D.; and Assistant Professors Timothy Fortin, Ph.D., Reverend Joseph Laracy, S.T.D., and Patrick Manning, Ph.D.
"This Advent comes at the end of a trying year. Our series is designed to help us to enter the holy season in a way that is consoling and uplifting – and to do so as a community, together reflecting on Mary, Mother of Advent," said Traflet. "Our speakers will consider Marian titles, apparitions, and images, pondering how Mary's love shines through in all parts of the world, in all times."
Last year's Advent series focused on the Advent readings for each day of the season, with a reflection on each reading offered by various members of the Seminary's faculty and administration. It generated nearly 600 subscribers from near and far.
Immaculate Conception Seminary is a House of Formation for the Roman Catholic priesthood and the School of Theology of Seton Hall University. Forming priests for God's people has remained the Seminary's constant focus, and the Seminary faculty – well-educated authors and scholars in their own fields – devote their time and energy to preparing these men for priesthood amidst the challenges of the 21st century. The School also focuses on the education of lay men and women in theology, permanent deacons, religious who are not studying for ordination, and already-ordained priests – not only providing for them academically, but also for their personal, pastoral and spiritual formation.
Categories: Faith and Service