Thursday, September 19, 2019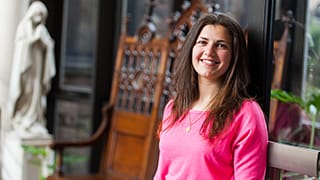 As the saying goes, "It's never too late to learn something new." These words ring especially true this fall at Immaculate Conception Seminary School of Theology, which is launching two online, graduate-level courses—Ministry of Justice and Charity and Christian Anthropology—beginning October 21. These options may be particularly appealing if you considered enrolling in a theology course this semester but thought it might be too late to enroll.  
Ministry of Justice and Charity 
It's one of the hottest topics in our society today. People from all walks of life are seeking and engaging in meaningful discussions about social justice. The School of Theology will join the conversation in a whole new way through Ministry of Justice and Charity. Running October 21 through December 9, the course explores the ways in which the Church today continues to fulfill the Gospel call to care for those in need and to address issues of social justice. It takes a particularly close look at the collaborative work of the parish community and its leaders, including priests, deacons and lay leaders, in light of Catholic social teaching and the New Evangelization. 
The course is open to all laity, priests, seminarians, religious sisters, brothers and ordained deacons who possess at least a bachelor's degree. Those who complete the course will earn three credits that can be applied toward a Master of Arts in Theology or a Master of Arts in Pastoral Ministry.
Teaching the course is Reverend W. Jerome Bracken, C.P., Ph.D., associate professor of moral theology. Ordained to the priesthood in 1968, Father Bracken served as co-founder of a House of Prayer with a Limited Apostolate. He was associate retreat director at Cardinal Spellman Retreat House in Riverdale, NY, and then at Bishop Molloy Retreat House in Jamaica, NY. He earned a B.A. in Philosophy from St. Michael's Seminary, NY; an M.A. in Theology from St. Michael's Seminary, Union City, NJ; and a Ph.D. in Systematic Theology from Fordham University. His dissertation is titled "Why Suffering is Redemption? A New Interpretation of the Theology of the Passion in the Summa Theologica, 3. 46-49 by Thomas Aquinas." Father Bracken's classes include Healthcare Ethics, Catholic Sexual Teaching, Ministry of Justice and Charity and Major Themes in Christian Ethics. His publications have appeared in The Angelicum, The Cusan, The Ecumenist, The Passionist, The Thomist and Nova et Vetera. 
"The course uses the textbook Compendium of the Social Doctrine of the Church. Through these readings, the Gospel not only becomes more alive in your mind and heart, but it also allows you to aid your fellow Catholics in being instruments of transformation, making our society more like the Kingdom of God in the family, at work, in the economy, in government, in our environment and in matters of war and peace," says Father Bracken. "The course should make you well equipped for this New Evangelization."
Christian Anthropology
"One of the timeless pearls of human wisdom is the need to 'know thyself,' yet this is easier said than done. Because we are such complex beings, we are often a mystery even to ourselves. Therefore, if we are truly to know ourselves, our humanity must be revealed to us," says Patrick Manning, Ph.D., assistant professor of pastoral theology about his online course Christian Anthropology. The course will run October 21 through December 17 and is open to anyone who possesses at least a bachelor's degree. Those who complete the course will earn three credits that can be applied toward a Master of Arts in Theology or a Master of Arts in Pastoral Ministry.
As Manning explains, "We will take revelation—specifically, the Bible and the Christian Tradition—as our starting point in this course for attempting to understand the human condition. We will touch upon topics including humanity's relationship with God; sin and redemption; the significance of grace, brokenness and healing; and the meaning of death and resurrection, exploring not only the Church's teaching but also the pastoral relevance of these teachings. The hope in taking this pastoral approach is that students will gain helpful insights for spirituality, relationships and ministry, developing a better understanding of themselves and others and how the dynamics of sin, grace and redemption influence the ways we live our lives and relate to one another."
Manning specializes in the area of practical theology with a particular interest in religious education and catechesis. He has a background in parish catechesis and Catholic education and holds advanced degrees from the University of Notre Dame and Boston College. His current research and praxis focus on methods of religious education, holistic faith formation, evangelization and the interfacing of faith and culture. Some of his other interests include theological anthropology, Christian contemplation and contemplative pedagogy, and the thought of Bernard Lonergan. As an educator and pastoral theologian, Manning directs his research and teaching toward inviting people into the fullness of life that Jesus offers. His forthcoming book Converting the Imagination (Wipf & Stock) will present a new approach to religious education focused on helping people find meaning in the Christian tradition for their lives in the face of the challenges of contemporary culture. 
Don't miss your opportunity to take one—or both—of these courses. If you're interested, please e-mail theology@shu.edu for detailed course and application information.   
Categories: Faith and Service