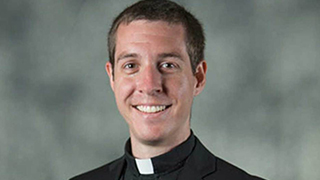 Seton Hall University alumnus Rev. Stephen "Chase" Pepper, '07 C.S.C., has been awarded the Gates Cambridge Scholarship to pursue a full-time postgraduate degree at the University of Cambridge in England. Scholarships from Gates Cambridge are awarded to outstanding applicants from countries outside the UK and Father Pepper is one of 35 winners of the award from across the United States, representing 39 universities and 19 States.
According to Gates Cambridge, "competition for the awards was intense" with approximately 800 US applicants, of which 198 were ranked by academic departments in Cambridge and 95 interviewed in Washington, D.C. Of those who were interviewed, 35 were selected to receive the award. Established by a $210 million gift from the Bill and Melinda Gates Foundation, the Gates Cambridge Scholarship recognizes students from outside the United Kingdom who:
Demonstrate outstanding intellectual ability;
Show leadership potential;
Show a commitment to improving the lives of others.
Seton Hall President Mary J. Meehan said, "As I look at the Gates Cambridge criteria for selection, what I see is a call for Servant Leaders of great intellect. It does not surprise me that they found what they were looking for among the alumni of Seton Hall. Father Pepper is a paradigm of our University and we are honored at his recognition in this prestigious award."
The award covers tuition, a maintenance allowance for a single student, airfare at the beginning and end of the course, inbound visa costs, health care costs and other related costs on a discretionary basis.
Father Pepper, who graduated from Seton Hall University in 2007 with a degree in political science and Catholic studies, received his Master of Divinity from Notre Dame in 2014. He entered the Congregation of Holy Cross in 2009 and was ordained to the priesthood in 2015. He spent the past three years in the departments of Campus Ministry, Residence Life and Theology at King's College in Wilkes-Barre, Pennsylvania and plans to pursue a doctorate in theology and religious studies at Cambridge.
Father Pepper's research at Cambridge will focus on "the intersection of systematic theology and Dante studies," a pursuit that stems from his ministry's outreach. Father Pepper explains, "A question overtook me during a drive through the Pennsylvania Wilds in 2015. How might people in life situations of 'exile' have access to theology and literature itself conceived out of exile? Thus, a passion for Dante that had begun during my first year of seminary at the University of Notre Dame developed into a weekly Dante study group at my local prison in northeast PA, and through my exposure to the lives and hopes of these inmates over the course of two years, I began to see how Dante could be used to explore the fundamental structures of and possibilities for human unity, even in the midst of fragmentation and isolation."
Rector and Dean of Seton Hall's Immaculate Conception Seminary School of Theology, Monsignor Joseph Reilly, recalls when Father Pepper was an undergraduate student at Seton Hall. "I am delighted that he discerned a call the priesthood and has been able to put his many gifts at the service of the Church. In using the work of this early renaissance master to re-connect the least among us to a redemptive path home, Father Pepper witnesses the power of a loving faith in service of others. At Seton Hall, we are honored to call him one of our own."
To read more about the Gates Cambridge Scholarship and its mission, visit here. To read more about Father Pepper and his work, his Gates Cambridge bio can be accessed here.
Categories: Alumni , Faith and Service