Monday, February 18, 2019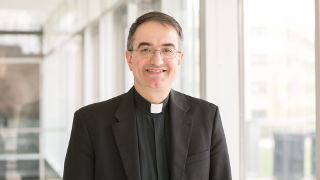 Reverend Pablo Gadenz, S.S.L., S.T.D., associate professor of biblical studies at Immaculate Conception Seminary School of Theology, was recently interviewed by Encounter, a television talk show hosted by Bishop John Barres and Reverend Monsignor James Vlaun of the Diocese of Rockville Centre, NY. The show airs on the Catholic Faith Network, which reaches television audiences in the New York, New Jersey, and Connecticut areas. This half-hour episode brought insight into Father Gadenz's new book, The Gospel of Luke, which is part of the Catholic Commentary on Sacred Scripture series.
Father Gadenz's book takes the reader on a journey, passage by passage, through Luke's Gospel, which is the longest of the four Gospels. During the episode, Father took a deeper dive into his book, providing background information on the Gospel and highlighting some of its key passages, such as the parable of the Good Samaritan. He explained that the book is intended for a wide audience. It can serve as an aid to priests and deacons who are preaching on Luke, but it is also useful for anyone who wishes to discover the riches of God's Word. He thus urged everyone to take the time to read the Gospel, indicating that his commentary can help people understand it better and apply it to their lives. He stated that by reading this, "we can be led to a decision, a resolution, to improve our lives, to take more seriously our life of prayer."
Learn more about Rev. Gadenz's new book and watch the full interview on YouTube.
Father Gadenz did his biblical studies in Rome at the Pontifical Biblical Institute (S.S.L.) and the Gregorian University (S.T.D.). He also has an M.Div. and M.A. from St. Charles Borromeo Seminary. Prior to becoming a priest, he earned his B.S.E. from Princeton University and an M.S. from Columbia University. He has authored a number of book chapters, articles and book reviews. His courses at Seton Hall include Synoptic Gospels and Johannine Literature. He is also a member of the Catholic Biblical Association of America, the Society of Biblical Literature and the Academy of Catholic Theology.
Categories: Arts and Culture , Faith and Service