William Durant - Stealth Seminarian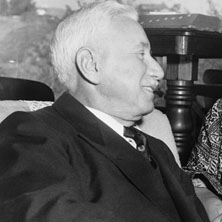 Will Durant's mother and Monsignor James Mooney (rector of the seminary and president of Seton Hall College, 1907-1922) had hopes that Will would become a priest. While at Saint Peter's College, Durant devoured every book he could and became a fixture at the Newark and Jersey City Public Libraries. His reading had led him to doubt his faith and this, together with visits to the Bon Ton Burlesque Theater in Jersey City, convinced him he was not material for the priesthood.
He now believed in evolution and socialism, and he was losing his belief in God. He wrote, "As I relinquished my belief in heaven, I turned with religious fervor to faith in a socialist utopia." He brought his doubts to Father Mooney, who counseled him that such lapses were common and urged him to "go to Mass daily, receive Communion frequently, and pray that faith would return." Trying to restore his faith, he read Father Faber's devotional works, Cardinal Newman, and The Imitation of Christ, in both English and Latin.
In 1907, Mooney had become rector of the seminary and president of Seton Hall College. He arranged for Durant to teach Latin, French, and geometry at the college and to reside there as well.
C. 1911-1912. Will
Durant (1885-1981),
top center, stands with
his students at the Ferrer Modern School in New York. - Answers.com
While Durant wrote glowingly of the atmosphere of Seton Hall, he was less generous in his description of his fellow teachers in the college, finding them "a rather uninspiring lot. Some of them were encyclopedically ignorant; none of them had any of my passion for literature or philosophy. . . . Yet, these same men, unlettered as they appeared to me, were capable teachers." Using pseudonyms, fortunately and mercifully, he described a rather colorful lot.
Some of the teachers stand out individually in my memory: Cummings, who dressed like a millionaire on fifty dollars a month; Zaccarelli, the fiery Italian, who swore like a soldier despite my dubbing him "Cardinal," and who wished to kill us for laughing at his staccato English; and timid old Daly, who indulged in alcoholic amnesia once a week, and spent the other days worrying whether Father Morley heard about it. I liked Zaccarelli best, because I relish pride and passion in a man; but the only one with whom I could have any stimulating mental intercourse was Daly.
Durant, together with a senior student bound for the seminary, conceived what he later called "an idea worthy of the most imaginative lunatic." He would please his family and Father Mooney by entering the seminary. He would pretend to have abandoned his radical ideas, become a priest, and then work from within to lead the Catholic Church in the United States to cooperation with the socialist movement.
Durant described his entry into the seminary as "an act of hypocrisy, generosity, idealism, and egotism. After two years I had had no success in recapturing either the old piety or the old faith. . . . The idealism and egotism were inextricably mixed, as they so often are. I took with Quixotic seriousness the mission I had assigned myself, of working within the Church to ally it with socialism."
They entered the seminary on September 4, 1909. Durant never revealed the name of his co-conspirator. He recalled his first year in the seminary as a happy time. He described his fellow seminarians as "all fine men; they forgave my scandalous acquaintance with non-Catholic literature, perhaps because they found me a helpful partner in handball and tolerable in baseball."
The schedule was rigorous, "rising at five, hearing Mass before breakfast, attending classes in theology, ethics, church history, and liturgy, continuing to teach in the college, eating meals in silence, reciting the rosary together in the open air, enjoying the daily periods of recreation, studying after supper till nine, murmuring evening prayers in the chapel; going to bed at nine-thirty." He also noted, "I was so tired that (though I do not trust the memory) I can't recall having any sexual desires or fantasies while in the seminary. Perhaps those wise old theologians had put some antiaphrodisiac in our coffee."
Durant called Seton Hall "a paradise." He recalled approaching it "by wide gravel walks that ran apart and then came together before the entrance of the administration building. Every inch of the walks was shaded by generously spreading trees. To the right lay great fields of corn and wheat, which fed the college tables; at the left was a spacious playground where happy lads were tossing baseballs, and the other paraphernalia of youth."
When Durant decided to leave in January 1911, Mooney treated him kindly, and "as if to ease the transition for me and my parents he asked me to resume my former duties as a lay teacher in the college. I gladly agreed, for I loved Seton Hall." He continued to teach until the end of the semester. Durant was grateful to Mooney whom he considered to have been "my greatest incentive to live an honorable life."
A year later, on January 7, 1912, Durant lectured at the Francisco Ferrer Association in New York on "The Origins of Religion" and "The Evolution of Sex, Homosexualism, Autoeroticism, and Malthusiasm." In his lectures, he stated that sex was one of the origins of religion, likening church steeples to phallic symbols. This was bound to draw the attention of authorities. A week later, he read a headline in the Newark Evening News: "CENSURE FOR FERRER ALLY: Monsignor Mooney Says Arlington Man's Lectures Excommunicate Him." Durant believed that he had incurred an "episcopal excommunication," but this was not the case.
Mooney, concerned that Durant's former association with Seton Hall would be a cause of scandal, had told the newspaper, "These lectures which are being delivered by Mr. Durant constitute an apostasy from the Catholic religion and entail excommunication. Nevertheless Mr. Durant continues to act in his home town not only as a consistent, but even as a devout, Catholic." His mother broke down; his father ordered him to leave the house. So ended Will Durant's association with Immaculate Conception Seminary.
For many years there was a legend among the priests of the diocese that, after Durant left the seminary, Monsignor Mooney locked the Seton Hall library, and left it locked until he retired --lest any other seminarian read himself out of the faith.
Because of Durant's publicly professed agnosticism, the seminary long considered him a turncoat and a traitor. Yet, in his autobiography, he was rather positive about both his college and seminary experiences at Seton Hall. His most negative remarks were about himself and the strange mix of motivations that led him into the seminary. In any event, Will Durant remains the only Seton Hall professor and seminary student who, along with his beloved wife, Ariel, was awarded the Presidential Medal of Freedom.
In his lifetime, Durant authored alone, or with his wife, 53 books. He and his wife, Ariel, died within two weeks of each other in 1981. He returned to the Catholic faith at the end. In the words of William F. Buckley, Jr., Durant "followed the example of Voltaire, and confessed his sins to a priest."