Father Jacques Philippe Virtual Presentation
Saturday, February 27, 7 p.m. EST
YouTube Premiere Event
Join the Center for Diaconal Formation of Immaculate Conception Seminary School of Theology (ICSST) as we welcome renowned Catholic author Father Jacques Philippe for his virtual presentation "Spiritual Fatherhood: A Call to All Men," designed for priests, deacons, seminarians and religious brothers. 
In today's crisis of fatherhood, it is more necessary than ever that men, especially priests, be images of the strong and gentle fatherhood of God, by whom the blessing of the Heavenly Father is given to his children. What is spiritual fatherhood? How can it help a man to truly become himself and reach the freedom of the children of God? Father Jacques will offer inspiring answers and a spiritual path forward. He also will outline precautions and guidance to help priests, deacons, seminarians, religious brothers – and indeed, all men – to guard against possible failures and to deploy their unique gifts. Focusing on the Beatitudes, Father Jacques will emphasize that one can only become a spiritual father by following the path of poverty of heart, humility, meekness, mercy and purity in the love that the Lord offers.
The presentation will be broadcast virtually as a YouTube premiere event. A link to join the broadcast will be sent to you upon registering. Register today.
About Father Jacques Philippe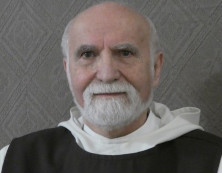 Jacques Philippe was born on March 12, 1947 in Lorraine, France. After studying mathematics in college, he spent several years teaching and doing scientific research. In 1976, he met the then recently-founded Community of the Beatitudes and, answering the Lord's call, he became a brother in the Community. After being asked to be a priest by the Community in 1981, he traveled to Rome to study theology and canon law and also began his work as a spiritual director, working in the formation of priests and seminarians of the Community. In 1994, he returned to France, where he assumed various responsibilities including spiritual direction, the formation of new members in the Community, and participation in its General Counsel. He began preaching retreats regularly in France and abroad and has consolidated his principal retreat themes into 12 books on spirituality. These books have sold over a million copies in 24 languages. Jacques Philippe's writings on themes such as prayer, interior freedom, and peace of heart have become classics of modern Catholic spirituality.