Thursday, October 29, 2020
In order to better secure your Seton Hall account, the university is implementing two-factor authentication campus-wide. Similar to the two-factor security utilized by banks and credit card companies, two-factor at Seton Hall adds a second layer of security to PirateNet. Two-factor prevents unauthorized users from logging in to your account, even if they know your password.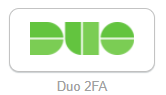 To enroll in Duo two-factor, log in to PirateNet between November 2 and December 22, 2020, open the Duo 2FA app, and follow the on-screen instructions.
The self-service Duo app in PirateNet will allow users to complete the following tasks, without having to contact the Service Desk.
add or remove a new device or telephone #
update pre-existing device/telephone #
re-register a connection to the Duo Mobile app
change options around pre-existing device/telephone #
How Does Two-Factor Authentication Work?
Enter username and password as usual
Use your phone to verify your identity
Securely logged in
Once you've enrolled in Duo you're ready to go: You'll login as usual with your username and password, and then use your device to verify that it's you. Two-factor authentication will only prompt you to verify your login when accessing a Seton Hall service off-campus. You will not need to authenticate while connected to the university's "campus" WiFi network. For off-campus logins, you may choose to "remember" a device for 15 days.
Users can authenticate via the Duo mobile app on their Apple or Android device, via a telephone call to a cell phone or via text message.
Enrollment can be completed anywhere you have internet access on your laptop. Technical support is available by phone at (973) 275-2222.
Why Do I Need This?
The main benefit of enrolling in two-factor authentication issignificant increase in protectionof your account from hackers.
Here's how that that protection works:
Two-factor adds an extra barrier between your personal information and the bad guys. To access your account, they would need to know not only your username and password but also a security code.
Two-factor can help keep attackers from accessing your email, documents, payroll, personal information, or research data.
Two-factor requires additional verification each time your account is accessed off-campus on an untrusted device, application or web browser.
If you receive a security code or push notification when you are not logging in to your account, you'll immediately know that someone else is trying to access your account. That means you should change your password!
If you experience issues during any step of the process, you can also contact the Technology Service Desk at (973) 275-2222.
Categories: Science and Technology