In March, twelve students from Seton Hall were accepted in the LinkedIn Student Learning Ambassador (LSLA) program. Students were invited to tour the New York LinkedIn office as part of their orientation, where they met the LinkedIn Learning Customer Success Team and program ambassadors from other universities.
As LinkedIn Student Learning Ambassadors, students became online learning leaders on campus. Student ambassadors were trained by LinkedIn and developed an impressive portfolio of work as they engaged in a series of initiatives and projects throughout the semester. These initiatives and projects helped to bring awareness of opportunities with LinkedIn and LinkedIn Learning to Seton Hall University.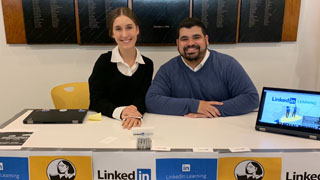 Carina Castagna, a sophomore, said "in addition to growing my professional network with LinkedIn employees, I was also able to connect with other student ambassadors from different colleges and countries!" Steven Hodge, a social & behavioral sciences student, said "I am committed to being a lifelong learner and I can confidently say that thanks to the LinkedIn Student Learning Ambassador program I am set apart from the competition."
Read Carina's full reflection here.
Read Steven's full reflection here.
LinkedIn's vision is to create economic opportunity for every member of the global workforce. LinkedIn's mission is to connect the world's professionals to make them more productive and successful. LinkedIn's acquisition of Lynda.com in 2015 places LinkedIn in the unique position to prepare students for success, modernize the classroom, and ensure faculty and staff continue to professionally develop. The combination of quality, expert-led content from Lynda.com, and the data driven insights from LinkedIn's massive professional network have allowed the creation of a comprehensive learning solution that can help students prepare for academic and career success.
Categories: Science and Technology