Thursday, September 27, 2018
Don't have a budget like Beyoncé? VR can be expensive at times. It doesn't have to be when there are everyday items you can use to construct an economic-friendly version VR Headset.
Using cardboard, lenses, Velcro, tape, a ruler, and some scissors, students were able to make their own VR headsets and explore both fun and educational apps to use them with. Virtual Reality apps let the user experience a rollercoaster simulator, practice Public Speaking in front of an audience, check out Mars, or practice being a doctor.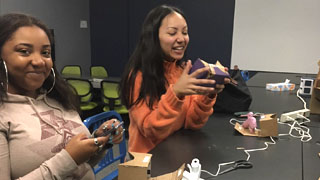 The next MakerSpace event is a Popsicle Bridge Challenge where participants will need to use popsicle sticks and tape to construct a strong bridge. Does your bridge have what it takes? Learn more and register!
Fall 2018 MakerSpace events include hologram selfie videos, Pirate catapult launcher challenge, Raspberry Pi smart tv box creation, and more. Register Now
Space154 is a collaborative place where faculty, students, and the Seton Hall community can come to participate in a variety of experiences. Part learning space, part digital creation space, and part discovery lab, it is a dedicated space on the ground floor of Walsh Library with flexible and café-style workspaces for teams or single users. It features technologies including a 3D printer and Autodesk software, Arduino and Raspberry Pi kits, and text mining/analysis software.
Categories: Science and Technology