Tuesday, February 9, 2021
As the threat landscape evolves and becomes more complex, Seton Hall was a first-mover in adopting a solution that provided unmatched visibility, detection and contextualized response. In a recent webinar, Seton Hall's Sr. Director of Information Security, Keith Barros, discussed the successes Seton Hall has achieved with a deployment of Cybereason technologies to secure endpoints and ramp-up students to level 1 analyst experience. The webinar covered security challenges in the higher education space, how Seton Hall up-levelled students to defenders, and the role of a malop in a modern cyber defense strategy.
Challenges in the higher education space
Seton Hall and many higher education institutions face similar challenges. Barros said, "staff size tends to be small, while alerts, specifically false-positive alerts, are plentiful." Additionally, full-time staff at the university are limited to a 7 hour work day whereas cyber threats operate 24/7. Universities are also unique in that students and faculty require an open environment, due to the wide variety of research topics. Keith's professional background includes several years in the corporate and financial sector where an open environment is typically locked down and sensitive topics and websites need to be blocked. 
Seton Hall up-levelling students to defenders
In August of 2018, the College of Arts and Sciences and the Stillman School of Business, along with the University's Department of Information Technology, launched a cybersecurity bootcamp. The curriculum addressed the basics of networking and prepared participants for the CompTIA NET+ certification test, an industry credential that is considered the first step to being recognized as an IT security professional. The curriculum continued throughout the semester both online and in person; students learned how to perform analysis to determine intrusion, compromise or vulnerability in IT systems and prepare to take the CompTIA Security+ certification test, giving them a second valuable credential for future employment.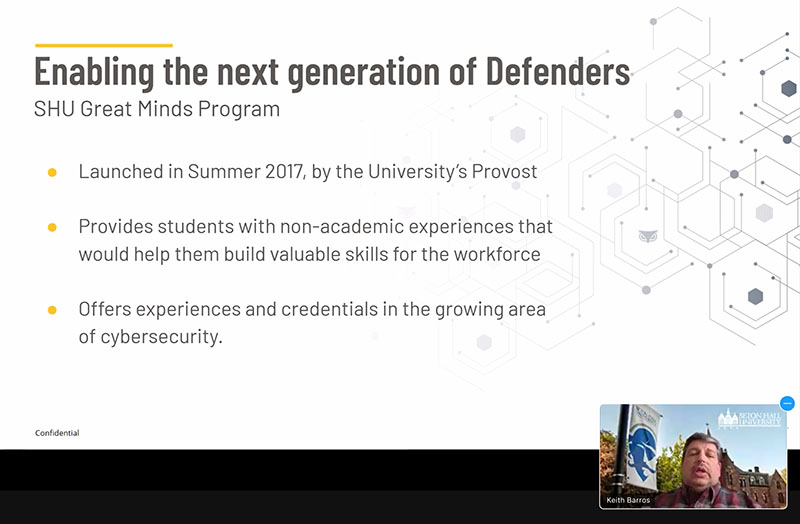 Due to the overwhelming success of the bootcamp, the program was expanded into the Great Minds Learning Experience. In the Great Minds Experience, the cybersecurity track was designed as an introduction to the field, in which students learned about cyber threats and defenses and the various different careers that can be launched within this discipline of study. Students who successfully completed the experience had a chance to interview with the University's IT Security unit for a paid internship while studying at Seton Hall University.
"Students in the internship program assist in the vulnerability remediation process, gather data for metrics reporting, and investigate and respond to phishing incidents", said Keith. Students gain hands-on experience with an indsutry leading tools like Cybreason while lightening the workload of full-time staff.
In the past four years, the program has 10 graduates with 7 working in cybersecurity jobs. According to Barros, students that graduated from the program attributed their career success to the hands-on experience in the cybersecurity Great Minds program. Barros said, "The need for cybersecurity professionals is real, widespread and urgent. This certification and intern program are a good first step in further preparing our students to meet the demands of the digital workspace. Employers look for CompTIA certification, and now they'll find it at Seton Hall." 
Categories: Science and Technology