Tuesday, September 10, 2019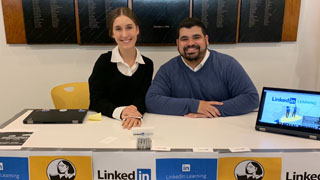 Whether you are hoping to land an awesome job or build skills to support your academic success the unique experiences you gain in the LinkedIn Learning Champion Program will set you up to always be learning and will set you apart from the competition in the job market
As a learning champion you will support your peers in leveling their skills, so they can confidently tackle all challenges faced during their time in higher education and get them career ready.
In addition, you will get an inside look into LinkedIn Learning and LinkedIn. You will receive advanced training, resources and support from LinkedIn
Applications are due September 30, 2019. Apply now
What will you do?
Engage in a series of experiential learning projects to develop skills
Learn about LinkedIn Learning and LinkedIn
Build relationships & community across your campus
What skills will you gain?
Public Speaking
Team Building
Creative Design
Marketing and User Research
Content & Social Marketing
Project Management
Entrepreneurship
What can you expect?
Program Certificate upon complition
Build a portfolio of projects to showcase employers
Support from LinkedIn to build skills
Networking opportunities
Mentoring from Seniors in the program
Invites to LinkedIn events
Recommendations based on success in the program
Awards of Excellence
LinkedIn's vision is to create economic opportunity for every member of the global workforce. LinkedIn's mission is to connect the world's professionals to make them more productive and successful. LinkedIn's acquisition of Lynda.com in 2015 places LinkedIn in the unique position to prepare students for success, modernize the classroom, and ensure faculty and staff continue to professionally develop. The combination of quality, expert-led content from Lynda.com, and the data driven insights from LinkedIn's massive professional network have allowed the creation of a comprehensive learning solution that can help students prepare for academic and career success.
Categories: Science and Technology