In late May, the University announced our move to a hybrid flexible (HyFlex) instruction plan that offers both in-person and remote instruction while ensuring the highest level of health and safety for all members of the campus community. When you look up the term HyFlex, you will find varying definitions, but we have created an easy to understand page that defines HyFlex at Seton Hall as well as five other course design models, including synchronous, online and flipped classroom models. 
Now that the NJ State Guidelines to reopen have been released, the 6 foot social distancing between individuals in a classroom has been confirmed. This guidleline greatly reduces our classroom capacities and thus the plan to support a HyFlex learning environment for the Fall 2020 term.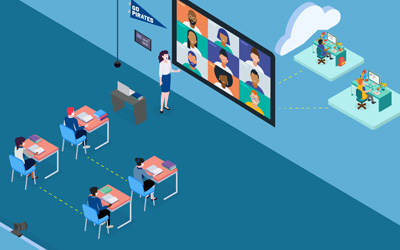 Several classrooms throughout our three campuses already have the ability for students to join a face-to-face class remotely. However, to support the HyFlex teaching model we have identified 40+ additional classrooms on the South Orange Campus that will have permanent Microsoft Teams room systems installed, while all other classrooms will have temporary equipment placed in them to allow for students to join the class remotely. 
At the IHS campus, we are adding cameras to the Learning Studios and additional functionality in every classroom to allow a faculty member to use the existing cameras with Teams, Blackboard Collaborate or other tools to join a student remotely in a face to face class. 
At the Law School we are busy adding cameras, microphones, and speakers to almost every classroom that will allow the faculty to utilize the currently technology and ensure students can join remotely. 
The Department of Information Technology has been working hard to prepare for the fall 2020 semester. For more information about the technology available in the classrooms visit the HyFlex classroom technology page.
The TLT Center has collaborated with the Center for Faculty Development and the Faculty Development Committee of the Faculty Senate to bring you various HyFlex and Course Design workshops this summer. Faculty workshops began last week and will continue throughout the month of July. To register for a faculty workshop, visit the university event calendar. We highly encourage everyone to take the Introduction to HyFlex session. If you are unable to attend a workshop, session recordings are available in the Teaching with Technology Microsoft Teams channel.
In response to the results of several faculty surveys we have also been hard at work developing a new standard Blackboard course template. Working with a group of faculty, the new standard Blackboard template will pre-populate University wide content to support students in achieving their academic goals. It is completely customizable to meet your learners needs and the template provides you with a foundation for you to build upon.  
Realizing that one size does not fit all, we have also made available three other course templates that faculty indicated were helpful in their move to remote instruction in the Spring. The new templates can be previewed here with instructions on how to apply any one of these templates to your course. 
Microsoft is continually announcing new features in Teams as a direct result of the feedback from faculty and IT professionals across Higher Education. Most recently Microsoft has announced an expanded audience view of up to 49 participants, custom backgrounds, class insights, and virtual breakout rooms, among other new features. More information on the updates to Teams is is available here.
Categories: Science and Technology