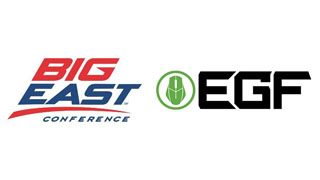 The spring 2021 League of Legends season starts with nine teams in the BIG EAST participating in a nine week tournament which will feature 18 rounds and 72 matches. Competing schools include: Butler, Connecticut, DePaul, Georgetown, Marquette, Providence, St. John's, Seton Hall and Villanova. The teams will compete in League of Legends™ Summoners Rift.
The spring competitions will consist of a best-of-one double round robin, with each team playing each other team once. Each team will play two matches per week. Starting side choice will be randomly predetermined such that each team has first side choice in half their games, and one game with first side choice against each opponent. The competition will be run by Battlefy.
The conference playoffs are scheduled for March 15-March 21 with the finals March 22-28. Four matches have been selected each week to be live streamed on the Electronic Gaming Federation's Official Twitch channel, along with the newly launched BIG EAST Twitch channel. The full bracket with stats and standings can be found here.
Rocket League
Rocket League play begins on February 3, 2021 when the Pirates take on UT Arlington. Seton Hall will take on several new opponents in the seven game season, including St. John's, Xavier, and Quinnipiac. The Pirates come off a recent tournament win as they claimed the title in the BIG EAST-Metro Atlantic Athletic Conference (MAAC) Rocket League tournament in December, defeating No. 7 seed DePaul, 3-1. 
ESports Results

| Opponent | Date | Time | Stream |
| --- | --- | --- | --- |
| UT Arlington | 2/3/21 | 7:30 p.m. | Official EGF |
| Quinnipiac University | 2/17/21 | 6:00 p.m. | EGF Rocket League |
| Siena College | 2/24/21 | 5:15 p.m. | EGF Rocket League |
| St. John's University | 3/3/21 | 5:15 p.m. | EGF Rocket League |
| Xavier University | 3/10/21 | 6:45 p.m. | EGF Rocket League |
| Niagara University | 3/17/21 | 5:15 p.m. | EGF Rocket League |
| University of Delaware | 3/24/21 | 5:15 p.n. | EGF Rocket League |
Seton Hall eSports Coordinator Victor Gomez said, "We are incredibly lucky and proud to have such talented young players here at Seton Hall, all three of them sophomore or below being led by a strong, technically skilled captain in Antonio [Tone] Riozzi." Despite the restrictions brought on by the global pandemic, the Seton Hall eSports teams continues to find success. In the spring, the team was crowned the ESL-BIG EAST League of Legends champions in a 3-1 win over Villanova.  "eSports is one of those unique activities that we can keep our students and teams 100% engaged with during this unique and difficult semester.  We are proud of their perseverance both in the classroom and on the pitch!" said Paul Fisher, the associate chief information officer and director of the Teaching, Learning and Technology Center.
To follow updates on social media, follow #BIGEASTesports. For more on the BIG EAST Conference's involvement in Esports visit www.BIGEAST.com/esports.
About Seton Hall Esports
A leader in the field, Seton Hall has had an esports club team since 2013. Among the first University gaming organizations in the state of New Jersey to be recognized, the team has been asked by a number of gaming organizations to provide insight into the future of collegiate gaming. The Seton Hall Esports team has played a pivotal role in the shaping and formation of league-sanctioned collegiate play. In November 2019, the University completed construction on a state-of-the-art computer lab and esports facility with dedicated and optimized computers for students' recreational and competitive use. The Pirates are Spring 2020 ESL-Big East League of Legends Champions, the 2020 BIG EAST-MAAC Esports Tournament Rocket League Champions, and the 2018 Big East Inaugural Rocket League Winter Invitational Champions.
About the BIG EAST
The BIG EAST Conference is an association of 11 nationally prominent colleges and universities that foster healthy athletic competition, community service and the pursuit of excellence in academic environments. The athletic programs of BIG EAST institutions provide national-caliber participation opportunities for more than 4,100 student-athletes on over 200 men's and women's teams in 22 sports. Established in 1979 and headquartered in New York City, the BIG EAST's members are located in eight of the country's top 36 largest media markets and include Butler University, University of Connecticut, Creighton University, DePaul University, Georgetown University, Marquette University, Providence College, St. John's University, Seton Hall University, Villanova University and Xavier University. For more information, visit www.bigeast.com.
About EGF
Founded in 2015, EGF is the national governing body for formalized collegiate D-I esports and high school level leagues. EGF's youth, high school and D-I collegiate leagues are inspired by the best aspects of traditional sports to create opportunities for students and schools to engage and advance. For more information or to inquire about collegiate participation, please visit EGF.gg , follow @officialEGF on Twitter, Instagram and Twitch and Facebook or contact info@EGF.gg
Categories: Science and Technology