Friday, September 3, 2021
Seton Hall's newest class of students were officially welcomed into the community last weekend through the celebration of two signature events, New Student Convocation and Blue Day which were hosted on Sunday, August 29. At these events, students were introduced to the culture and community of Seton Hall while also participating in a fun-filled day before the first days of classes.
New Student Convocation took place in the Richie Regan Athletic Center Gym at 2 p.m. The ceremony is one of the first traditions for the freshman class as new Pirates. It is a signature event that marks the beginning of a students collegiate career. Convocation is a great way for freshmen to formally kick off the semester, hear from influential and important figures on campus, and start their official legacy at Seton Hall.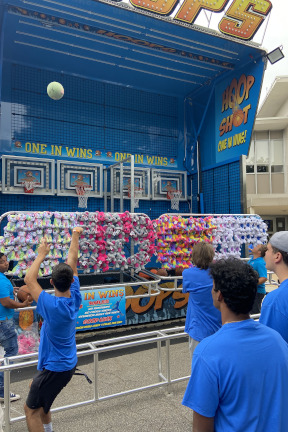 "Convocation is an excellent event because the incoming class gathers to be welcomed into their undergraduate career. This is the only time they will sit in the same room until their own graduation," explained Student Government Association President Julia Nicholls, who spoke at the ceremony.
"In my speech, I touched on the importance of facing challenges head on and being open to new experiences. I spoke on this because I have been able to witness my peers learn over their time in college. So, my hope was to pass on advice and lessons that my peers wish they would have been told at the beginning of their academic journey."
The Blue Day celebration took place on the University Green, immediately following the New Student Convocation.  Games, obstacle courses, activities, and food trucks were available for the students to participate in and enjoy. The carnival was free and open to all students. The Blue Day celebration is a campus tradition, that makes meeting other freshmen and other students a seamless and fun experience at Seton Hall. 
Involvement Week will take place on Tuesday, September 7 through Thursday, September 9 from 1-3 p.m. on the University Green. Walk around to see what interests you and meet with clubs and organizations to find out what ways you would like to get involved at Seton Hall. All students are encouraged to attend. 
Categories: Campus Life