Wednesday, November 17, 2021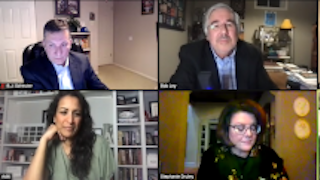 Picture of the Panel
Continuing Seton Hall's Sports Media Speaker Series, the College of Communication and the Arts hosted "Rising Talent: How Women Are Slowly but Importantly Playing Larger Roles in Sports Media." This panel discussion focused on the experiences of women in sports media and what can be done to improve the conditions of the industry. The discussion also marked history as this was the first Sports Media Speaker Series event conducted by the College since the launch of its Center for Sports Media.
On November 11, Bob Ley '76 joined Aditi Kinkhabwala of the NFL Network to co-host this virtual event. The two welcomed a panel of women in the industry that included ESPN reporter Lisa Salters, new Sacramento Kings television analyst Kayte Christensen-Hunter, and ESPN Executive Vice President Stephanie Druley.
The importance of this panel and the subject matter it covered was aptly stated in a question posed by Ley during his opening monologue for the event: "From the time 58 years ago when Jane Chastain became the first women sportscaster on the national or local level, to the here and now, we've seen progress — but what are the bigger picture and the reality on the ground?" Ley had prefaced that question by mentioning that the Associated Press sports department received a grade of F in six consecutive studies focusing on gender hiring by the Institute of Diversity and Equity in Sports at the University of Central Florida.
Ley further made note of the lack of gender diversity in certain on-air positions. Druley acknowledged Ley's point and later cited the lack of women in production or executive roles in sports media as well.
"Production has been a male area for a long time. I have some really great female leaders below me and some that sit beside me in the organization … but there are not a lot of women at the high executive level," Druley explained.
The panel not only focused on how companies can help to relieve some of the pressures that women face in the industry but also talked about how fans can do their part as well. Kinkhabwala passionately talked about her experiences on social media and how public comments can affect women reporters.
"For 20 years, I've been told 'ignore the nonsense, just focus on your job' but what changes? What changes for my daughter? Lisa Salters is as good as it gets, her gender does not matter…why does she have to hear this…?" said Kinkhabwala, who also discussed how people attacked her on social media after her toddler made noise during a virtual press conference.
Christensen-Hunter also added to the discussion on the anxieties women in the sports industry experience. "As a woman, one of the biggest fears that I've faced is eventually I'm going to be too old and not look good enough to do this job." Christensen-Hunter felt that people need to focus more on the work that a woman puts in and not how she appears.
Within the conversation of gender issues in the industry, however, there were also positive trends the panelists have witnessed over the years. Salters further acknowledged that more women want a career in sports because they are now more visible in the media.
"I always find it very humbling when young women say, 'I want to do what you do.' They see us on television, and they think immediately that they can do it too. It never occurred to me to do what I'm doing now because I didn't really see it very much," said Salters. "I grew up loving and playing sports, but it never crossed my mind to be a sports journalist because I didn't see a lot of [women] out there doing it."
Kinkhabwala relayed a story about how she herself prompted a policy change in the National Football League by being willing to speak out about the lack of nursing spaces for new mothers.
The event concluded with a Q&A session, where audience members were able to dig deeper into the panelists' experiences.
If you missed "Rising Talent: How Women Are Slowly but Importantly Playing Larger Roles in Sports Media," you can watch the video above for the full event. You can also view past events on the Sports Media Speaker Series page.
Categories: Arts and Culture , Athletics , Education