Thursday, October 17, 2019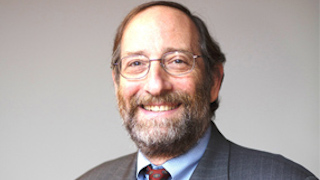 Can interreligious dialogue save the planet? This important question will be explored by the Sister Rose Thering Fund for Education in Jewish-Christian Studies. The Fund's Ninth Annual Dr. Marcia Robbins Wilf Lecture will take place from 2:00 to 4:00 p.m. on Sunday, November 3, 2019 in Bethany Hall on Seton Hall's main campus. A reception will follow the lecture.
Is religion a negative force in society or can it contribute to the advance of social development and human liberation? Can interreligious dialogue help restore civility to our public discourse, which seems to be but a memory in our world today? Building on the Vatican's "Dialogue and Proclamation," Herschel's No Religion is an Island, and other sources, Rabbi David Sandmel will explore these timely questions.
The Anti-Defamation League's Director of Interreligious Engagement since 2014, Rabbi Sandmel is a scholar of Jewish-Christian relations and an interfaith activist. In his role, he serves as an officer of the International Jewish Committee on Interreligious Consultations (IJCIC), a coalition of international Jewish organizations that engages in dialogue with international Christian organizations, including the Vatican, the World Council of Churches and the Orthodox Churches.
From 2003-2014, Rabbi Sandmel held the Crown-Ryan Chair in Jewish Studies at the Catholic Theological Union in Chicago. Rabbi Sandmel earned his doctorate in religious studies at the University of Pennsylvania. He received his rabbinic ordination and master's in Hebrew literature from the Hebrew Union College-Jewish Institute of Religion in Cincinnati. He holds a Bachelor of Arts in Jewish Studies from Ohio State University. He was the Judaic Scholar at the Institute for Christian and Jewish Studies in Baltimore, where he managed the project that produced "Dabru Emet: A Jewish Statement on Christians and Christianity." He is an editor of Christianity in Jewish Terms and Irreconcilable Differences? A Learning Resource for Jews and Christians. His commentary on First Thessalonians appears in The Jewish Annotated New Testament.
Thanks to the generosity of Dr. Marcia Robbins Wilf, founding trustee of the Sister Rose Thering Fund, prestigious lecturers such as Rabbi Sandmel are invited each year to Seton Hall to promote inter-religious understanding and dialogue. The lecturers themselves, who come from all areas of academia across the country, draw an audience from the entire University as well as the surrounding communities.
The event is free and open to the public through the generosity of the Dr. Marcia Robbins Wilf Lecture Endowment. However, an R.S.V.P. would be appreciated. For program details and to register, click here. 
About the Sister Rose Thering Fund:
The SRTF began as a supporting wing of the Graduate Department of Jewish-Christian Studies, which is currently a graduate program in the Department of Religion. Our mission is to advance Sister Rose's legacy by fostering understanding and cooperation among Jews, Christians and people of other religious traditions through advocacy and education. Sister Rose Thering served as administrator, recruiting educators and raising funds to defray tuition costs, until her retirement in 2005. For more information, please contact Clare Giangreco at (973) 761-9006 or srtf@shu.edu.
Categories: Faith and Service