Monday, November 30, 2020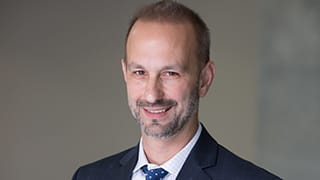 Anthony Sciglitano, Ph.D.
Anthony Sciglitano, Ph.D., has been named the new executive director of the Sister Rose Thering Fund for Education in Jewish-Christian Studies. He is filling the shoes of David Bossman, who served faithfully at Seton Hall for over 30 years. 
Bossman retired this year after 34 years of service to the Seton Hall community. Seton Hall has been his home since he began his career as University Provost in 1985. Bossman co-founded the Sister Rose Thering Fund to encourage interfaith dialogue and continue the vision of Sister Rose as an advocate for education to stem the tide of prejudice against Jews and promote interreligious cooperation. He extended the legacy of Sister Rose through countless classes on the Bible, teaching courses on values shared across religious traditions, and connecting Seton Hall to its neighbors through dialogue. In recognition of his service, Bossman was honored by his professional colleagues and friends at the 26th annual Evening of Roses Gala on June 4, 2019, and presented with the Sister Rose Thering Lifetime Achievement Award.
David Bossman
"I leave Seton Hall with a renewed sense of purpose," reflected Bossman. "Passing the torch to engaged board members and new faculty will continue the work of Monsignor Oesterreicher and the educational focus of Sister Rose Thering. The best is yet to come."
Sciglitano looks to continue Bossman's legacy and carry on the passion that he demonstrated for the Fund and its mission. An associate professor in the Department of Religion, Sciglitano works in the areas of theological hermeneutics; theology, religion, and secularism; theology of religions; and fundamental theology. His book, entitled Marcion and Prometheus: Balthasar Against the Expulsion of Jewish Origins from Modern Religious Dialogue, was published by Crossroad in 2014. He is particularly interested in the relationships between philosophy and theology as it is historically realized and between practicing faith traditions and secular culture. 
"It is a great honor to succeed David in this role. He and the Sister Rose Thering Board, including the wonderful work of Monsignor Anthony Ziccardi, have left a great legacy of interreligious education and cooperation that provides an antidote to the poison of anti-Semitism and to bigotry more broadly," says Sciglitano. "Working with the extraordinary members of the Board and the larger community, I will look to extend this legacy with whatever energy and talent I possess. Of special importance to the fund will be efforts to expand the Board, recruit younger members to Sister Rose's mission, and to reach out to all people of good will who wish to encourage the better angels of our nature." 
About the Sister Rose Thering Fund:
The Sister Rose Thering Fund began as a supporting wing of the Graduate Department of Jewish-Christian Studies, which is currently a graduate program in the Department of Religion. Its mission is to advance Sister Rose's legacy by fostering understanding and cooperation among Jews, Christians, and people of other religious traditions through advocacy and education. Sister Rose Thering served as administrator, recruiting educators and raising funds to defray tuition costs, until her retirement in 2005.
Categories: Faith and Service