Welcome to the fall 2020 semester! This semester, through survey submission, students were able to choose to engage in completely remote learning or take advantage of the HyFlex modality, in which students meet in person on certain days and attend remotely on other days. This plan is designed to balance teaching and learning with the health and safety needs of our community.
We know this is a unique semester and many of you may have questions about your class schedule. This webpage has been created to help you understand your schedule and address many of your questions.
Please watch this video tutorial to assist you in understanding your schedule. 
We have added some instructions at the top of your schedule in PirateNet as well as an indication of your survey selection to attend completely remotely or participate in the HyFlex option. In addition, two items for each course are listed on the class students' class to provide the following information: Course Delivery Mode and Rotation Group.
Course Delivery Mode
---
This information is specific to this course and indicates how this specific course will be taught. It does not reflect the student's specific learning modality preference (remote or HyFlex) from the survey. The following options will be displayed:
HyFlex – All students meet at the dates/times listed with some students attending class in person and some attending the same live-streamed class remotely according to their rotation schedule. Students who selected the remote-only option on the survey should attend remotely for all sessions even if HyFlex is indicated in this field; the HyFlex designation indicates how this course is offered not the student's preference. All in-person rotation begins on August 31, 2020; prior to this date all students should attend remotely unless otherwise notified by their college. 
Remote (synchronous) – Students attend class at the scheduled class day/time and participate in all classes remotely while the live class is being conducted by the faculty. No in-person meetings exist for these classes.
Online (asynchronous) – Students complete coursework online without any set meeting date or time.
Hybrid: In-person days listed below – Students will only meet in person on the dates specified under this label. Students who selected the remote-only option on the survey will attend remotely for all sessions even if in-person dates are indicated here.
Attend all classes in person – Students do not have to alternate between in-person and remote. This is primarily used for courses that meet on the weekends only as we were able to accommodate these courses in larger classrooms which comport with social distancing regulations. If you indicated on your survey that you wish to be remote, you do not have to attend in person.
Consult with your professor – Students should consult with their faculty or department chairs for further details. This applies primarily to SHMS and Nursing courses as they may have additional variations and meeting schedules.
Rotation Group 
---
All students will be assigned a rotation group letter (A or B) or a rotation group number (1, 2, or 3) for their courses. This assignment will tell them which courses they should attend in person if they selected the HyFlex option on the survey.
Students should follow the rotation calendar to identify which dates they should attend in person. On the dates their rotation group is not listed, students should attend remotely on the same date and time.
While the rotation group will appear on every students' schedule, it is only meaningful for the students who selected the HyFlex in-person option on the survey. Students who are remote can disregard this group assignment as they will always attend all class sessions remotely. 
Students with an A/B rotation schedule generally meet 50% of the time in person.
Students with a 1/2/3 rotation schedule generally meet in person about 33% of the time.
Over 90% of classes are on the A/B rotation schedule, however not all could be accommodated in this rotation due to capacity constraints and the need to comply with social distancing guidelines.
Frequently Asked Questions
---
How will I know what rotation group I am assigned to?
Your rotation group can be found on your class schedule. You can access your class schedule via PirateNet. A new chiclet has been added for ease of access.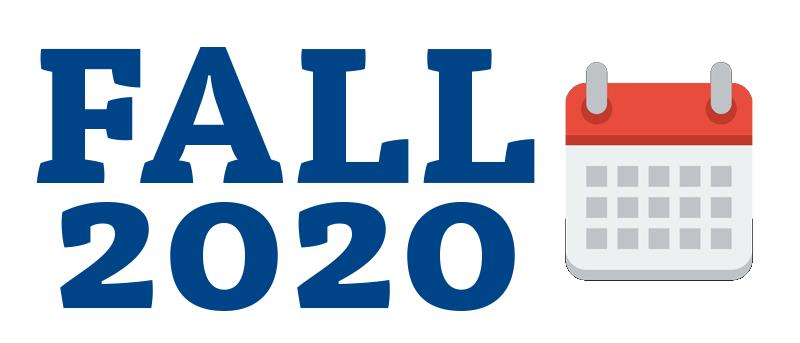 Your rotation group will be listed for each of your courses. The rotation group can be found here on your schedule: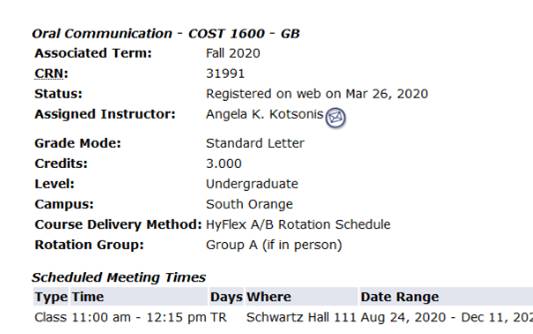 Can I change my rotation group?
Group assignments have been made to distribute students evenly and ensure that we comply with proper social distancing and room capacity guidelines. For this reason, we cannot change rotation group assignments as it would create an imbalance. 
---
I chose remote instruction when I completed the survey so why are some of my classes listed as HyFlex and why am I assigned a rotation group?
The course delivery mode will indicate HyFlex if this class is being taught with the HyFlex in-person option available. This reflects this specific course's mode of delivery, not your preference for remote attendance. If you chose remote instruction, you do not need to attend in-person. Similarly, if you selected remote instruction, you can disregard the group rotation assignment. This is being provided, however, so you know which group you are assigned to if you change your preference from remote to the HyFlex in-person option. 
---
Why is my class listed as remote, especially since I signed up for the HyFlex modality? 
You may also have been or will be notified shortly that some of your courses have been converted to completely remote instruction. This has been done to meet faculty requests for accommodations and adjustments as well as reduce campus and classroom density to safeguard the health and safety of our community. 
---
I have chosen remote learning and my class meets at 8 a.m. but I am not in the Eastern Standard Time zone, what should I do?
You will have to log-in to the remote synchronous course or HyFlex course at the listed Eastern Standard Time. Alternatively, before the add/drop period ends you may try to adjust your schedule to a course offered later in the day if one is available. 
---
If I chose the remote option on the survey, how will my professor know I am remote?
Professors will receive a list of the students enrolled in each of their courses. This list will indicate if which students are remote or HyFlex. 
---
I don't remember if I selected remote or HyFlex in-person on my schedule, how can I find out?
At the top of your schedule, you will see a note that indicates the preference you selected when you completed your survey. 
---
Can I update my survey selection and change to/or from Remote to HyFlex or vice versa?
No, the survey will close on August 21 and after this time you cannot make updates to the survey. However, you can still make some adjustments to your attendance; please see the additional questions below for more information. 
---
What if I did not complete the survey indicating my preference for remote or HyFlex in-person learning?
Your schedule will not indicate your preference, but we will assume that you plan to attend according to the HyFlex option. If you decide to attend classes remotely instead, please notify your professor directly. We cannot accept survey responses after August 21, 2020. 
---
If I started the semester indicating that I want to be remote, can I change later in the semester to in-person HyFlex?
If you have chosen the remote option on your survey, it means that you intend to join all of your classes remotely for the entire semester. If you have begun the semester remotely, it is preferable that you remain remote for the entire semester. 
It may be possible for you to switch to the HyFlex modality; however, it will be dependent on available seating in the classroom in which your class meets. Please e-mail your professors to see if there is an available seat. They will advise you if you can attend in-person as part of the HyFlex modality.
---
What if I am following the HyFlex modality and I need to be remote for one or two of my class sessions due to illness or quarantine?
You need to inform your professor(s) that you will be attending these class sessions remotely for these specific meeting dates.
---
What if I chose HyFlex, but I just want to be remote for one or two of my classes for entire semester?
The survey only allows students to indicate their intention to be remote or HyFlex for the entire semester, not on a course-by-course basis.  For this reason, if you indicated that you want to be HyFlex for the semester but you have determined that you need to take one or more class remotely, at any point in the semester, you should confer with your professor about switching to remote learning for this course. 
---
If I began the semester in the HyFlex modality, can I change my selection to remote at any point in the semester?
Yes, if you have begun the semester in person, you can change to the remote modality at any point in the semester with the approval of your professor(s) for some or all of your classes. To do so, please confer with your professor(s) on this matter.
---
If the virus is eliminated and full in-person instruction is resumed, can I still remain remote for the semester?
Yes, if the University is able to resume full in-person instruction, you can still remain remote for the semester.
---