What We Do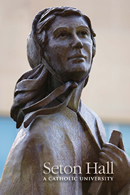 The publications department designs and creates printed materials that stand out in a crowded marketplace. We produce magazines, newsletters, brochures, ads, logos, invitations, programs, fliers— from the initial concept for the project through to the delivery of printed materials and coordinated Web graphics.

We offer a variety of services that show Seton Hall to its best advantage in order to enhance its reputation and support its mission.  Explore our list of services »
Why Use Publications?

As a unit of Seton Hall, we have a deep, shared interest in your project's success. We also intimately understand your department — its history as well as its audiences and aims. Learn more about working with us »
Resources
We have provided the following resources for you to use when producing any marketing materials. They will help maintain our brand identity.