Undergraduate Participation in Faculty Research
At Seton Hall, undergraduate students not only learn about cutting-edge research, they contribute to it. National Organizations such as the Council on Undergraduate Research recognize participation in disciplinary research as an experience with unique value for deep learning and building credentials for careers. Active laboratories in several departments at Seton Hall feature teams of faculty, graduate students, and undergraduates, with undergraduates even becoming co-authors of published articles in some cases. Please see below some examples of some of our more active research areas with contact information for interested students.
Diplomacy 
The School of Diplomacy and International Relations hosts a collaborative research space called the Diplomacy Lab, or "DiploLab". Each year, a cohort of Diplomacy undergraduates is recruited to work on faculty research projects, including data collection, survey and interview analysis, and research and policy writing. Students rotate between working on faculty projects and creating original research projects of their own, under faculty guidance. Notably, DiploLab students published original analysis in Foreign Policy in January 2021.
The DiploLab is directed by Prof. Joseph Huddleston.
You can read more about the DiploLab, its students, and its accomplishments here »
Psychology
Dr. Marianne Lloyd's laboratory investigates why memory errors happen and how to prevent them. This investigation is done by presenting material such as videos, pictures, or words to be remembered and then giving recognition memory or recall tests. To learn more, please email marianne.lloyd@shu.edu.
Economics and Finance
Kurt Rotthoff is an Associate Professor of Economics and Finance at Seton Hall University's Stillman School of Business. His research interests include applied microeconomics, financial economics, industrial organization, the application of economics and finance to the sports industry, and the economics of education. He has published multiple papers with undergraduate students in journals such as Applied Economics Letters, Journal of Quantitative Analysis in Sport, and the Journal of SPORT. He has also published papers in Economic Inquiry, Economics Letters, Economics of Education Review, Journal of Sports Economics, the Southern Economic Journal, and others. Students under Dr. Rotthoff's guidance are engaged in a very broad range of aspects of research, from literature review to modeling to data analysis, and select students with larger roles have become co-authors of these published articles. You can contact Dr. Rotthoff at Kurt.Rotthoff@shu.edu.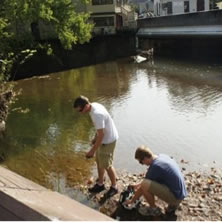 Biological Sciences
Environmental Issues
Students interested in environmental issues and public health would be interested in Dr. Tina Chu's ongoing studies on detecting, monitoring and predicting Cyanobacterial Harmful Algal Blooms (CHABs); the effects of overgrowth of cyanobacteria (blue-green algae) and their toxins on animal and humans health in drinking and recreational water. Undergraduates collect water samples, analyze samples with microscopes, flow cytometer and other molecular assays.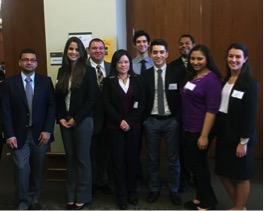 Medicine and Healthcare
Students interested in medical and healthcare fields would be interested in Dr. Tina Chu's ongoing research project on developing potential alternative therapeutic agents with natural products for antibiotic-resistant bacteria and viruses. Undergraduates learn aseptic techniques, various microbiological, molecular techniques and bioinformatics tools.
NeuroImmune Pharmacology
Sulie Chang's research program, the Institute for NeuroImmune Pharmacology (INIP), involves undergraduates in a wide variety of research, including:
Assessment of behavioral disorders related to use and abuse of addictive substances including alcohol.  Undergraduate students will use rodent models to study how use of addictive substance such as alcohol may affect the animal's cognition, learning, memory and novelty seeking behaviors.
Studies of the alterations in immunophenotype and cellular responses associated with aging and systemic infection including HIV infection using rodent models. Undergraduate students will participate in collecting the PBMC from the different animal strains and study alteration of their immunophenotype at various ages using flow cytometry. Further, they will study these animals' plasma inflammatory cytokine profile using ELISA.
Studies of medicinal effects of various sweet basils. Undergraduate students will plant various basils, including Asian basils, using the Tower Garden available at the INIP. Then they will collect the whole plant extraction and examine if the plant extract affects the proliferation of culture cells such as SH-SY5Y and HL-60 cells using cell culture technology.
Physics
The Laboratory of Dr. Mitra Feizabadi examines the physical properties of one of the intra-cellular bio filaments, microtubules to better understand the distinctions that exist between the functions of neuronal vs. cancerous cells. Undergraduate research assistants use equipment such as centrifuge, dark-filed microscopy and laser tweezers to carry out physical analyses, also using software including Lab View, Igor Pro and Image J.