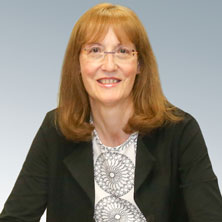 Grace May, Ph.D.
Associate Professor
Department of Educational Studies
(973) 761-7457
Email
Jubilee Hall
Room 468
Grace May, Ph.D.
Associate Professor
Department of Educational Studies
Grace May teaches in the integrated elementary and special education program. Her research interests have included quality of life issues for adults with intellectual disabilities, cognitive development in children with intellectual disabilities, and the development of teacher dispositions. Currently she a member of the Catholic Inclusion Education Advisory Committee in the Archdiocese of Newark and collaborating with colleagues in speech and language pathology to develop an Interprofessional Conference on Autism. Dr. May is involved in a grant and pilot project with two community partners to expand and improve transition opportunities for students with disabilities. She is also overseeing the college pilot use of the edTPA.

Dr. May has served the university in multiple roles including dean and acting dean of the College of Education and Human Services, Associate Dean for Assessment and Accreditation, NCATE accreditation coordinator for two successful accreditation visits, and program director of the elementary/special education program.
RELATED NEWS
Education
Ph.D., University of Pennsylvania
M.A., University of Pennsylvania
B.A., Cedar Crest College
Scholarship
"Measuring Social Consciousness: Using Multiples of Evidence to Examine Teacher Dispositions", Journal of Ethnographic Qualitative Research, 2, 129- 137, April 2008
Accomplishments
Linda Gupta Ward Teaching Award, Spring 2002
CEC Program Review, Nationally Recognized Program (2009)