The investiture of Joseph E. Nyre, Ph.D., as Seton Hall's 21st president will celebrate the University's faith-filled past, dynamic present and limitless future.
Attendees, please click here for event information and reminders.
A week of events will reflect Seton Hall's identity as a home for the mind, the heart and the spirit while emphasizing its power to change destinations and transform lives. Symposia, lectures, service projects, receptions and other events will precede the ceremony, which will take place on Friday, November 15.
The investiture will formally welcome President Nyre and emphasize Seton Hall's commitment to showing the world what great minds can do. It will mark a new beginning for the University and instill a fresh sense of pride in Setonians from every generation.
President Nyre was appointed by the Board of Regents on February 4 and took office on August 1. In his welcome address, he reaffirmed the University's commitment to fostering great minds by engaging in the great conversations, challenges and debates of our time.
About Seton Hall
---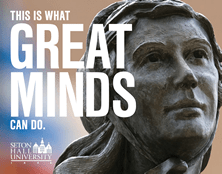 One of the country's leading Catholic universities, Seton Hall has been developing students in mind, heart and spirit since 1856. Home to nearly 10,000 undergraduate and graduate students and offering more than 90 rigorous academic programs, Seton Hall's academic excellence has been singled out for distinction by The Princeton Review, U.S. News & World Report and Bloomberg Businessweek.
Seton Hall embraces students of all religions and prepares them to be exemplary servant leaders and global citizens. In recent years, the University has achieved extraordinary success. Since 2009, it has seen record-breaking undergraduate enrollment growth and an impressive 93-point increase in the average SAT scores of incoming freshmen. In the past decade, Seton Hall students and alumni have received 24 Fulbright Scholarships as well as other prestigious academic honors, including Boren Awards, Pickering Fellowships, Udall Scholarships and a Rhodes Scholarship. In the past five years, the University has invested more than $150 million in new campus buildings and renovations. And in 2015, Seton Hall launched a School of Medicine as well as a College of Communication and the Arts. A founding member of the Big East Conference, the Seton Hall Pirates field 14 NCAA Division I varsity sports teams.
The University's beautiful main campus is located in suburban South Orange, New Jersey, and is only 14 miles from New York City — offering students a wealth of employment, internship, cultural and entertainment opportunities. Seton Hall's nationally recognized School of Law is prominently located in downtown Newark. The University's new Interprofessional Health Sciences (IHS) Campus, located in the towns of Clifton and Nutley, NJ, opened in the summer of 2018. The IHS campus houses Seton Hall's College of Nursing and School of Health and Medical Sciences as well as the Seton Hall-Hackensack Meridian School of Medicine.
What is an Investiture?
An investiture is defined as the "formal ceremony of conferring the authority and symbols of high office," traditionally held during the new president's first year in office, or at the conclusion of the first year.

Today, universities view investitures as opportunities to welcome a new era and celebrate as a community. View our Investiture Schedule of Events and join us in celebrating the road ahead.