The Center for Peace and Conflict Studies (CPCS) is a creative hub that merges cutting-edge academic research, education programs and practical initiatives that reduce violence, and build more peaceful societies and international relations. The Center promotes interdisciplinary research on a wide range of topics related to peace and conflict with an emphasis on conflict prevention, management, resolution, and post-conflict peace building and reconstruction. The Center is committed to advancing the understanding of social conflict, global peace and conflict issues through multidisciplinary, multilevel, and multicultural approaches. Through the Center's ongoing research projects as well as education and practice activities, faculty, students, alumni and colleagues work together to develop the interdisciplinary field of peace and conflict studies.
The CPCS' focus areas include security relationships between China and the US, peacebuilding and statebuilding across the Middle East and North Africa, and genocide prevention. The Center advances international understanding on how to promote peace and reduce conflict through its unique research on issues such as the role of NGOs in mediation processes, the nexus between humanitarianism, development and peacebuilding, and diplomacy across cultural norms. The Center also provides a training resource for diplomats and professionals working on peace promotion. CPCS' approach is that the broad field of conflict resolution, depends on transformations of those living in conflict, the societies where conflict takes place and how diplomacy is conducted.
The Center's Programs
The Center hosts impactful programs that promote understanding, reconciliation and conflict management in areas of tension and conflict around the globe.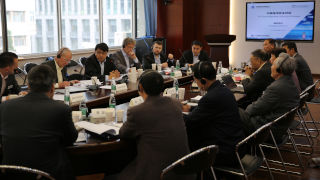 U.S.-China Maritime Security Dialogue Nanjing Conference, December 6, 2017 (Nanjing University, China)
U.S.-China Maritime Security Dialogue
The U.S.-China relationship is currently at a crisis point. Since the normalization of relations between the two nations in 1979, their relationship has never been more uncertain than it is today. The Centre is at the forefront of measures to improve dialogue and communication on issues central to stable security relationships between the two countries. This includes the projects Promoting U.S.-China Communication and Dialogue on the South China Sea Disputes (2016-2019) and U.S.-China Security Dialogues: Advancing Communication at a Bilateral Crisis Point (2019-2022), which promoted constructive engagement between high-ranking former senior officials and leading scholars from the U.S. and China on the maritime disputes and security issues, with generous support from the Henry Luce Foundation.
Peacebuilding and statebuilding in the Middle East and North Africa (MENA) 
The 2011 Arab Spring has led to protracted social conflicts, substantial human suffering and tensions between states. It has also exposed shortcomings in existing international approaches for supporting peace and stronger states. The Center has responded with a program to support more effective mediation, international assistance and peacebuilding methodologies, with a focus on Libya, Syria and Yemen.
Genocide prevention
Mass atrocities have shaken the world to its core for decades, testing the understanding of societies and scholars alike as we seek to prevent such evil from repeating itself. The Center has been at the heart of efforts internationally to promote genocide prevention through its involvement in the Global Action Against Mass Atrocity Crimes (GAAMAC).
Mentoring in the diplomacy and practice of conflict resolution
The Center provides a resource to those working on or in conflict in capacity development and skill enhancement. This encompasses dialogue skills, mediation skills and practical peace programming.
All Conflict is Local Annual Conference 
The Center conducts an annual student conference titled "All Conflict is Local: Personal Experience, Reflection, and Conflict Resolution." Panelists explore conflicts from various parts of the world, combining both theory and personal experience.
Catholic Peacemaking Program 
The Center offers courses and promotes research on the established and emerging peacemaking work done by Catholic actors and entities.
Center Leadership
Zheng Wang, Ph.D. is the Director of the Centre for Peace and Conflict Studies.
Dr Andrea Bartoli is Dean of the School of Diplomacy and International Relations.
Professor of Practice David Wood is the Director of the Peacebuilding and Statebuilding in MENA program.
Contact the Center
Center for Peace and Conflict Studies (CPCS)
School of Diplomacy and International Relations
Seton Hall University
101A McQuaid Hall 
400 South Orange Avenue 
South Orange, NJ 07079 
(973) 275-2515
CPCS@shu.edu