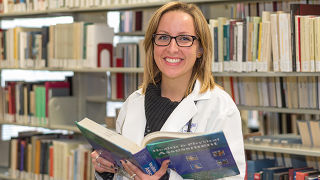 In June, Seton Hall's College of Nursing will host virtual open houses for two of its online graduate programs. The Doctor of Nursing Practice (D.N.P.) open house will be held Friday, June 25, and the M.S.N. in Pediatrics - Primary Care open house will take place Friday, June 11. Both events will run 11 a.m. – 1 p.m. on MS Teams.
Seton Hall's College of Nursing has been recognized as having the top-ranked online graduate nursing program in New Jersey — and third among all Catholic universities in the country — for the past two years by U.S. News and World Report. In addition, U.S. News also highly ranked the College of Nursing's Master of Science in Nursing (M.S.N.) and Doctor of Nursing (D.N.P.), marking Seton Hall as the No. 1 private university in New Jersey for these programs.
During the Pediatrics Virtual Open House, attendees will have a chance to speak with Program Director Diane McClure, R.N., D.N.P., C.P.N.P., A.P.H.N.-B.C. about Seton Hall's 100% online curriculum, the program's clinical requirements, and how to translate learning into practice. Nurses who are looking to advance their careers with an M.S.N. should have one to two years of professional nursing experience with a B.S.N. from an accredited college or university.
Program Director Mary Ellen Roberts, D.N.P., R.N., A.P.N.C. will kick off the open house for the D.N.P. program, during which she will cover details about required coursework, the benefit of obtaining a terminal degree, and how evidence-based learning can be utilized in practice. Our D.N.P. program is for anyone with a M.S.N. or B.S.N. who is interested in expanding their nursing knowledge through scholarship and clinical practice.
During both open houses, Director of Graduate Admissions and Compliance Gabriele Zengewald, M.A. will provide information on the admissions process, including application requirements. In addition, a representative from Financial Aid will guide attendees through the process of applying for financial aid and review various financial aid programs for graduate students.
The program directors, director of Graduate Admissions and Financial Aid staff will all be available for a Q&A session.
Click here to register for the College of Nursing's virtual open houses.
About the College of Nursing
Offering educational opportunities from B.S.N. degree through the D.N.P. and Ph.D., the College of Nursing's mission is to educate baccalaureate-prepared generalists and advanced practitioners of nursing who aspire to be innovators and leaders in the nursing profession with a commitment to lifelong learning, service and leadership for the greater good of the global society.
Categories: Education , Health and Medicine