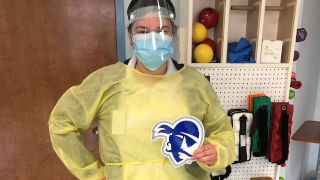 During these unprecedented times, people have seen many individuals place their life on the line within the medical field. The courage that has been seen within these individuals can be very inspirational to many.
Since the Coronavirus pandemic took the U.S. by storm, nursing schools have seen an increase in inquiries and applications to their graduate degree programs as a result of the inspirational sacrifices of nurses worldwide. Given the large number of applications being submitted, prospective students should anticipate a more selective admissions process from nursing schools, and thus develop their credentials accordingly.  
Many experts are suggesting that to adequately prepare, potential nursing students should follow the advice from U.S. News and World Reports and take the following steps in order to become the ideal candidate:
Construct an exceptional admissions essay. Many nursing school administrators and faculty members analyze personal statements carefully and use them to determine which applicants stand out the most. Their objective during review of these applications is to distinguish an applicant's passion toward becoming a nurse and whether they hold a compassionate nature.
Make sure you have all the necessary prerequisite courses. Although it is not required to receive an A in every pre-requisite course required for acceptance, prospective students should still seek to possess distinguished academics. For those applying to a Master's Direct Entry program, applicants should make sure they have great academic performance in all pre-requisite science courses required for admission. This will reflect a passion for science and increase your chances for acceptance.
Ask for professional references from managers or professors. Asking for recommendation letters from professionals familiar with an applicant's work ethic and personality can have a positive impact on their applications.
Demonstrate strong people skills. Applicants must exude a sense of empathy, a quality found amongst all great nurses. Being perceived as a caring, trustworthy and enthusiastic individual will not only go a long way for an applicant's career, but for the patients they may one day help. 
Categories: Health and Medicine