Celebrity Chef Lidia Bastianich traveled across the United States visiting the various individuals who have relentlessly served on the front lines, such as medical workers fighting the coronavirus pandemic in the northeast. In her latest PBS special, Lidia meets with many first responders who have worked quietly in the shadows, and now find themselves thrust into the spotlight by the crises facing the country in 2020.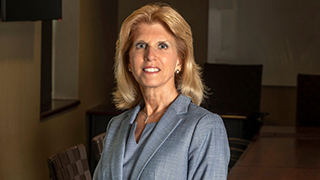 One of Lidia's segments on first responders took viewers to Holy Name Medical Center in Teaneck, New Jersey, where she covered the outstanding service the staff has demonstrated during the COVID-19 pandemic. During the show, she spoke with executive vice president and chief nursing officer Michele Acito, D.N.P., R.N., N.P., NE-BC, who also is a graduate of Seton Hall University College of Nursing's M.S.N. program. During this pandemic, Acito has been seen as a notable leader and trailblazer by not just her patients, but her entire staff.
Having over 32 years of work experience within the medical field, Acito originally started working for Holy Name as a telemetry nurse tasked with overseeing cardiovascular and intensive care units. After many years of dedication and passion, she moved up the ranks to director of nursing operations where she navigated her staff during the coronavirus outbreak in New Jersey. During the outbreak, Acito described it as "an experience like no other and hopefully one that I never have to experience again." She relayed how the trauma that was left behind by COVID-19 felt by not only family members, but healthcare workers.
Holy Name made every effort to care for their patients. The nursing team provided critical clinical insights to the facilities team – combining best practices in patient care with ingenuity to collaborate with the facilities team in constructing five new ICUs containing 76 beds within three weeks. They partnered with facilities to create and beta-test 250 patent-pending negative-pressure isopods that protect COVID patients and staff. Even though the unit reached full capacity in a short amount of time, Acito and fellow nursing staff members stayed committed to helping every single patient.
During the expansion of the ICU, Acito also had three family members diagnosed with COVID-19. Committed to serving both her patients and her family, Acito had her three family members stationed within her ICU where she was able to visit and receive updates on their care daily. Acito recalls the last memories she shared with her mother-in-law, one of her family members who had been admitted. Having turned 89 while in the hospital, Acito and her staff made her feel very special regardless of her current medical state. Despite the fact that Acito's mother-in-law, unfortunately, passed away from COVID-19, Acito recalls these last few moments with her as life-changing and was glad that she could act as a bridge of communication between her mother-in-law and family.
"COVID showed us the power of what we could do," said Acito. "Our role as nurses is to provide exemplary patient care and act as their advocates. With COVID, we had to also fill the role of their family. We learned how to compartmentalize. We went home and tried to put the day behind us, but when you have a family member here, it's not something you can just push out of your mind."
As executive vice president and chief nursing officer, Acito works closely with administrators and physicians to develop safety and quality initiatives within the medical center. There is no doubt that Michele Acito is a trailblazer in her field and can be seen as a hero. Her efforts during what she describes as "one of the most uncertain times in recent history" underscores why Holy Name holds Magnet Recognition, an award given to only 6% of healthcare organizations nationwide for their nursing excellence and quality care.
Categories: Health and Medicine , Nation and World