Wednesday, February 24, 2021
The College of Nursing held the Population Health Student Ambassador Program Pinning Ceremony virtually on Tuesday, February 9.
Created in Fall 2018 by Assistant Undergraduate Chair and Clinical Assistant Professor Ann Marie Sailsman, D.N.P., M.P.H., the Population Health Student Ambassador Program provides the opportunity for eligible students to represent the College in a variety of settings through servant leadership, including community engagement, mentoring, participating in recruitment, open houses and campus tours. Nursing students are invited to join the program based on their performance in the Lifespan Context for Health of Diverse Individuals and Populations course, during which students participate in required service-learning activities in surrounding communities.  
This year's virtual ceremony was led by Assistant Professor Nancy Innella, Ph.D., RN, CNE, who welcomed the audience and served as the Master of Ceremonies. The convocation was delivered by Chaplain and Director of Campus Ministry Rev. Antonio T. Sarento Jr., M.Div. '15/M.A. '19, who joined the University in Fall 2020 and works at the Interprofessional Health Sciences campus.
Dean Marie Foley, Ph.D., RN, CNL acknowledged the contributions of Sailsman in her opening remarks. "If it weren't for the vision and commitment of Dr. Sailsman, we wouldn't have this program today," said Foley. "The services that our students provide to Seton Hall's surrounding community are important to make sure both individuals and communities have the resources necessary to improve health and developmental goals."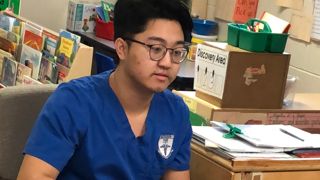 Keynote speaker Lennard Custuna '20, alumnus of the College as well as the Student Ambassador program, is shown here volunteering his time during a STARS reading session for kids at New Community Harmony House in Newark.
The ceremony featured three keynote speakers, all alumni of the College as well as the Student Ambassador program. Lennard Custuna '20, who is now a staff nurse at Saint Peter's University Hospital-Pediatric Unit commented on how much participating in community engagement as an undergraduate meant to him. Custuna also appreciated how his work for Striving to Achieve Reading Success (S.T.A.R.S.), a reading program for underserved school-age children, has helped him in his current role as a pediatric nurse
Claudia Martins '20 is currently a staff nurse at Hackensack University Medical Center's Neuro/Surgical Stepdown Unit. Martin said the ambassador program helped her in her current role as she now does community outreach. Her advice to current students was to feel empathy for what others are going through. "Learn to relate to your patients and the other people you are dealing with in the community," she said. "Go into any location and make them feel comfortable."
A member of inaugural class of ambassadors in fall 2018, Eva Esson '19 works as a staff nurse at RWJ St. Barnabas Medical Center's Burn Intensive Care Unit and also per diem as a home health nurse. In her advice to current nursing students, she said, "As a new nurse, don't be afraid and don't feel your voices are lost. Every organization values a fresh set of eyes." Esson added that the ambassador program is a unique opportunity for students to learn about what happened to patients before they come to the hospital, acknowledging that outside the clinical setting they are a person.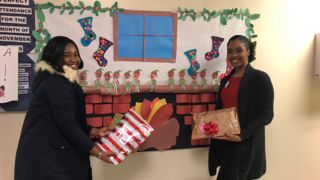 Members of the Student Ambassador inaugural class participated in the College of Nursing's annual toy drive at New Community Harmony House in Newark.
During the presentation of the ambassadors, Sailsman stated, "All of these students have displayed the characteristics of servant leadership." Students were each given the opportunity to speak briefly about their experiences with the program, many giving thanks to Drs. Sailsman and Innella for the opportunity, as well as acknowledging their families for their support.
2020-21 Population Health Student Ambassadors
Merin M. Babu 
Oviana B. Bullock 
Amanda N. Giang 
Daphne L. Lombardi 
Madison J. Loustan 
Caroline J. Marchiano 
Gabrielle R. Morales 
Ivana Okseniuk 
Akshar R. Patel 
Maria I. Sanchez 
Joshua E. Savin 
Jonathan M. Sheckfee 
Amanda A. Szeles 
Krysta K. Taduran 
Renzo Z. Tallo 
Anzumarana K. Uddin 
Taylor D. Wilson 
Jonathan A. Zammit
The ceremony's closing remarks were delivered by Judith Lucas, Ed.D., RN, associate professor and associate dean of undergraduate programs and assessment. "Everyone knows the value of nursing and it's never been more relevant than now," said Lucas. "Servant leadership is going to help you, impact your humanity. Like Mahatma Gandhi once said, 'The best way to find yourself is to lose yourself in the service of others.'"
During the virtual event, many members of the College of Nursing community offered their congratulations to the ambassadors, including Associate Professor Josephine Devito, Ph.D., R.N., who said, "It is great to see your great spirit and development of your role as a professional nurse. You are Seton Hall University College of Nursing future leaders. So proud of all of you!"
The history of the Population Health Student Ambassador Program began in 2016, when the College incorporated concepts and experiences of population health into many courses in the undergraduate curriculum, including Lifespan Context for the Health of Diverse Individuals and Populations (mentioned earlier). After their course was completed, some students took it upon themselves to continue volunteering. After learning that many students desired to continue with these activities, Sailsman created the Student Ambassador Program, of which she is the faculty advisor. 
The Student Ambassadors continue to develop and participate in service activities in many community agencies, including an Annual Health and Wellness Fair for residents of the West Ward of Newark and surrounding Wards, the Striving to Achieve Reading Success (S.T.A.R.S.)  program at New Community Harmony House, as well as participating in the development Mount Vernon School and Seton Hall University Minority Future Nurses Club for children of varied background. Because of the vision of Sailsman, these College of Nursing students provide valued services to many of our underserved surrounding communities.  
Categories: Education , Health and Medicine