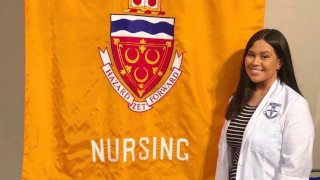 Current student representative Jacqueline Rodriguez, who is a junior in the B.S.N. Program, volunteered at events hosted by the Alumni Association last year.
College of Nursing students from all levels — undergraduate, second-degree BSN, master's and doctorate — are invited to meet with and volunteer alongside nursing alumni through opportunities offered by the Seton Hall College of Nursing Alumni Association (CONAA).
While providing a valuable opportunity for students to develop mentoring relationships, the CON AA serves to support and promote the College of Nursing, its mission, core values and ethics. Its members strive to maintain a visible presence at many different nursing events, including the annual Margaret C. Haley Alumni Awards Ceremony, the White Coat Ceremony, and an alumni panel presentation, usually held in March. The CON AA also participates in University-wide events, such as Seton Hall Weekend, the annual Christmas Tree Lighting Ceremony and DOVE Toy drive, men's basketball games, and commencement. Through all these events and activities, members foster personal and professional relationships with Nursing faculty and students.
Current student representative Jacqueline Rodriguez, who is a junior in the College of Nursing's B.S.N. Program, was able to volunteer at both the White Coat Ceremony and a basketball game last year.
Jacqueline not only attends school full time, but also works at an urgent care center in Edison, New Jersey. After she graduates, she has dreams of working in a pediatric setting, hopefully in New York City. She also has an interest in pursuing the Pediatric Nurse Practitioner master's program.
This is the second year that Jacqueline has been a student representative. "This is a great opportunity to learn all I can about the nursing profession by connecting with alumni, who are a great resource," said Jacqueline. "For instance, I have been able to learn a lot about different careers options from [Past AA President] Anne Connor throughout the year!"
Jacqueline hopes to help bridge the gap between current nursing students and alumni and facilitate communication between the groups. When it comes to the journeys that nurses take after graduation, she realizes that "the alumni have so much to share with students and I want to facilitate making that happen."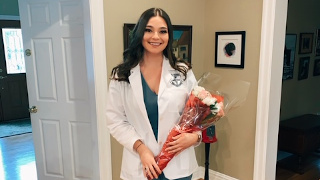 Alexa Cozzarelli, from the Accelerated B.S.N. Program, recently organized an alumni panel to help guide her fellow classmates on their first steps after graduation.
Another student representative, Alexa Cozzarelli, who is currently enrolled in Seton Hall's Accelerated B.S.N. Program, recently organized a Zoom panel of alumni from all nursing backgrounds to help guide her fellow classmates on their first steps after graduation.
Alexa received her undergraduate degree in physical therapy from Sacred Heart University. However, she always knew that her heart was set on working in a hospital, ideally in an Emergency Room. After she graduates from Seton Hall and gains more experience, she hopes to continue with her education in a Family or Pediatric Nurse Practitioner program.
Alexa joined the CON AA as a student representative in April 2020 and was an active participant at all CON AA executive meetings by providing a valuable student perspective, such as giving suggestions on when to host activities and how to help engage current nursing students. "Being a student representative allowed me to connect with alumni and additionally help my peers connect with alumni to get answers to questions about their fields of interest," she said.
And even though she graduates at the end of October, Alexa's involvement with the CON AA will not end. "Luckily, I will still be included in the executive board as a young alumni representative for all ABSN students," she said.
"The CON AA is very lucky to have these students that have volunteered their time to serve as student representatives. We thank them for their time," said CON AA Past President Anne Connor, who notes that all College of Nursing students are invited to share their ideas and expertise at any of the annual general membership meetings or executive board meetings.
Any nursing students interested in becoming involved in the SHU CON AA can reach out to either of the student nursing representatives, or contact Mary Ellen Urbanowicz, President, at meurbanowicz@gmail.com or Anne Connor, Past President, at aconnor1256@gmail.com.
Categories: Health and Medicine