The College of Nursing is proud to celebrate its graduating students of the Class of 2022.
These nursing students are unique in that they completed their clinicals during the pandemic. "However, they can feel secure that they have the knowledge needed to be successful and are prepared to face any challenges. Their experiences during the pandemic have equipped them to overcome any obstacles placed in their paths," said Dean Marie Foley; Ph.D., R.N.
Here are some of our graduating seniors with nursing jobs on their horizons: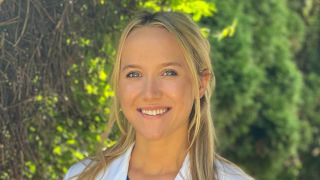 Isabel Finan (Ho-Ho-Kus, NJ) is to pursue a Medical/Surgical RN Residency Program at The Valley Hospital in Ridgewood, NJ. She was an active Buccino Leadership Institute member, Servant Leader Scholar, Sister of Alpha Gamma Delta, and Student Sacristan through Campus Ministry. 
Veronica Lomangino (Marlboro, NJ) has served as a tutor in the Academic Resource Center since her sophomore year and now is one of the head tutors (peer tutor coordinator) and trains all the tutors for the whole university despite majors. She has been in the Student Nurses Association since freshman year and now Sigma Theta Tau, and is also a member of Alpha Gamma Delta. Veronica is a Catholic studies minor and was in the Honors Immersion for her final clinical rotation. She will be working at Hackensack University Medical Center on the oncology unit upon graduation.
Madison Loustan (North Haledon, NJ) will be beginning her career as a New Graduate Nurse Resident at the Valley Hospital. She has been an active member in her sorority, Alpha Phi, serving on the executive board as the Executive Administrator. She has served in many leadership roles on the Seton Hall campus including as the secretary for the Population Health Student Ambassador Program, student representative on the Undergraduate Curriculum Committee, and student representative for the Diversity and Inclusion Initiative within the Buccino Leadership Institute. 

Katie Mazzarelli (Old Bridge, NJ) is a Servant Leader Scholar and has also been an active leader in the Buccino Leadership Institute, Delta Phi Epsilon Sorority, and Student Nurses' Association, while working part-time as a Patient Care Technician. She was inducted into the Sigma Theta Tau International Honor Society of Nursing. Katie will be working at Morristown Medical Center and was accepted into the Hire Learning Program for new graduates.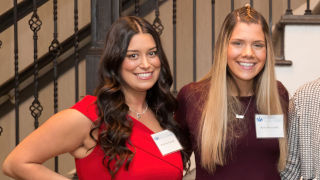 Both Madison and Katie are members of the CareCall team that participated and placed in several entrepreneurship contests. The project focused on using technology to replace the current call bell system within the hospital setting. Read the full story.
Richard Maize (Los Osos, CA) has accepted an offer to develop his nursing and leadership skills in the ER at French Hospital Medical Center of San Luis Obispo, CA. He is a member of the Sigma Theta Tau International Honor Society of Nursing, as well as a participant in Greek life, Club Rugby, and the Buccino Leadership Institute.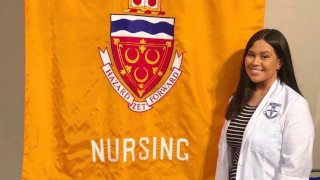 Jacqueline Rodriguez (Edison, NJ) has accepted a full time offer at Morristown Medical Center in the Emergency Department, the same place she served her immersion. While at Seton Hall, she was involved in Student Government Association as a Nursing senator her freshman and sophomore year. She was also a peer educator for KNOW MORE, a Resident Assistant in Xavier Hall, and an active member of Global Medical Brigades. 


Isabella Valentino (Stony Point, NY) is ready to begin her career as a RN in NJ in the Step-Down Unit at Chilton Medical Center. Graduating Magna Cum Laude with a Minor in Spanish and a Certificate in Leadership, Isabella has also been awarded membership to Sigma Theta Tau International Honor Society. Outside of school, Isabella was a member of the Student Nurses Association, served on the Buccino Leadership Institute student council, and held numerous positions in her fraternity, Alpha Omicron Pi.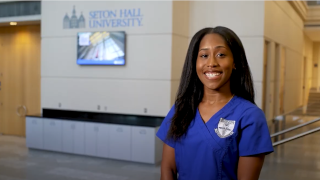 Taylor Wilson (Tinton Falls, NJ) has been a member of the National Council of Negro Women and the Black Student Caucus. She was also part of a group of women who were able to reinstate the Alpha Kappa Alpha Sorority Inc., Rho Upsilon chapter at Seton Hall where she served on the E-board as Vice President. Taylor is also a Seton Hall Cheerleader, cheering for both men's and women's basketball team at home games, conferences, and tournaments. She was also a Population Health Student Ambassador for which she served as the Public Relations Chair. Taylor is currently interviewing for nurse residencies and entertaining offers from Jersey Shore University Medical Center, Overlook Medical Center, and Monmouth Medical Center. 
Know a College of Nursing graduate who already has a job already lined up? Please email Lorraine Joyce at lorraine.joyce@shu.edu.