Wednesday, April 21, 2021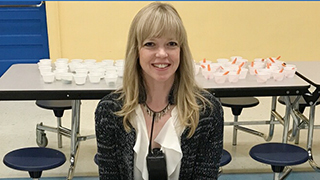 Governor Phil Murphy's voice on the phone was unmistakable, per Catherine Grano. He was calling to tell her she had been awarded the 2021 New Jersey State School Nurses Association (NJSSNA) Excellence in School Nursing Award.
"I appreciate that he took time out of his busy day to congratulate me," said Grano. a student in the College of Nursing's Ph.D. program. "He managed to say quite a bit in a short period and clearly conveyed a sense of genuineness and appreciation for school nurses."
Catherine Grano, M.S.N., R.N., CSN-NJ, has served as a school nurse in Middletown Township, New Jersey since 2008. In addition, she works as a childbirth educator at both Meridian Health Shore Care in Neptune, N.J. and Monmouth Medical Center in Long Branch, N.J.
"We are very proud of Cathy's accomplishments!" said Bonnie Sturm, Ed.D., R.N., program director of the Ph.D. program. "Since beginning her studies at Seton Hall, she has been able to explore research directions which further enrich her work in school nursing. In addition, she will be completing valuable research that will enhance our understanding of the experiences school nurses encounter in their professional roles."
"I am honored to receive the NJSSNA Excellence in School Nursing Award," said Grano. "I work amongst some of the very best. New Jersey school nurses are an intelligent, dedicated and persistent group committed to supporting the health needs of students and school communities. Therefore, I am grateful — and humbled. I hope that I can do this honor justice and make my school nurse colleagues proud."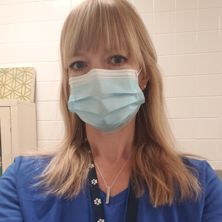 While she started her career as a maternity nurse, Grano later had the opportunity to volunteer in her son's elementary school's health office and soon began substituting in local schools. "I discovered that I loved the opportunity to positively impact the lives of my students, their families and school staff," she said. "I have always had a strong interest in health promotion and healthy living. Every interaction with my students was an opportunity to promote healthy behaviors and self-care such as handwashing, engaging in physical activity and making healthful food choices."
Grano feels that she can "be a constant presence within the school environment, providing others with a safe space to have their physical and socio-emotional needs addressed."
In 2013, Grano developed the Wellness Revolution, a multifaceted program aimed at promoting the health and wellness of the school community and its surrounding area, collaboratively with fellow school nurses Eileen Gavin, Bernadette Dean and Casey Burdge, as well as a district administrator, Heather Mills-Pevonis. This program, the result of a partnership with Johnson & Johnson and Rutgers, incorporated activities aimed at improving nutrition, increasing physical activity and decreasing recreational screen time. The program was piloted in four elementary schools, then incorporated within all twelve district elementary schools in Middletown Township.
"Nursing is such a meaningful career, allowing me to make a positive difference in the lives of others," said Grano. "From managing health conditions to providing first aid and counseling students, school nurses really make a difference, and I am grateful to be a part of that."
Grano is a member of the National Association of School Nurses, American Nurses Association, Sigma Theta Tau National Honor Society, American Public Health Association and Eastern Nursing Research Society. In 2019, she received a Governor's Educator of the Year Award for Monmouth County. She graduated summa cum laude from Monmouth University with an M.S.N. and received her B.S.N. from Christopher Newport University in Virginia.
When asked why she wanted to pursue a terminal nursing degree, Grano said, "I have always been the person asking others to 'show me the science — do you have a reference for that?'
"I enjoy trying to figure out solutions to problems and identifying ways that we can do better," she continued. "I found myself wanting to identify ways that I could make a more substantial impact on the health and wellness of our community. To me, this meant gaining the ability to perform research, contribute to the development of knowledge, improve healthcare and educate nurses to meet the needs of a diverse population."
After much thought, Grano decided that a Ph.D. in Nursing would align with those goals. "I chose Seton Hall because it has a great reputation, plus the College of Nursing is highly regarded," she said. "I also appreciate that it is a catholic university seeded in faith and respect for humanity."
Grano said she has been impressed by the College faculty as well. "They instill a love of learning and quest for knowledge while also cultivating critical thinking skills. Working toward my Ph.D. in Nursing has been an excellent experience, both personally and professionally life-altering," she said.
"The College of Nursing is fortunate to have had many school nurses, like Cathy, who have gone through our Ph.D. program to advance the practice of school nursing through their research," said Marie Foley, Ph.D., R.N., C.N.L., dean of the College of Nursing. "School nurses not only need to be competent, caring professionals but also those who advocate for students and their families by promoting policy to ensure student health and wellness. Cathy is truly deserving of this recognition for advancing the practice of school nursing."
About the College of Nursing
As New Jersey's first college to offer a Bachelor of Science in Nursing (B.S.N.) program, Seton Hall's College of Nursing has educated approximately one-third of all New Jersey nurses and is one of the few universities in the country to be an approved College of Nursing for Army ROTC nursing candidates. U.S. News & World Report ranks Seton Hall University College of Nursing as one of the top online graduate nursing programs in the country. Offering educational opportunities from B.S.N. degree through the Doctor of Nursing Practice (D.N.P.) and Ph.D., the College's mission is to educate baccalaureate-prepared generalists and advanced practitioners of nursing who aspire to be innovators and leaders in the nursing profession with a commitment to lifelong learning, service and leadership for the greater good of the global society.
Learn more about the graduate and doctoral programs offered by the College of Nursing.
Categories: Health and Medicine , Nation and World