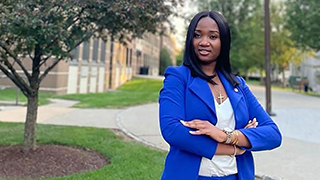 While an undergraduate student in the College of Nursing, Class of 2021 graduate Oluwayomi Babayemi took advantage of many of the Seton Hall scholarships offered to current students, as well as scholarships awarded by outside organizations.
Most recently she was the recipient of a scholarship from the Mid-State Black Nurses Association of New Jersey (MSBNA), which is awarded based on the student's academic accomplishments, servant leadership roles, financial need, and various participations as a student nurse.
Babayemi was also the recipient of the Robert & Mary Alno Sweeney Scholarship, McGrath Scholarship, Vincent Lizzi Scholarship, Edward & Stella Van Houten Scholarship and a Transfer Scholarship. In addition, she received the Johnson and Johnson Discover Nursing Scholarship, which renews each year that she is in good academic standing.
"As a Population Health Student Ambassador for the College of Nursing, I learned about the MSBNA scholarship through Dr. Sailsman and applied as soon as I could," said Babayemi, who received the Population Health Ambassador Nursing Award at the recent College of Nursing Pinning Ceremony.
Assistant Undergraduate Chair and Clinical Assistant Professor Ann Marie Sailsman, D.N.P., M.P.H. acknowledged that Babayemi was deserving of the MSBNA scholarship. "She was a dedicated and conscientious student who has the potential to advance the profession of nursing in the future. She is an inspiration to many," said Sailsman, who indicated this is the second consecutive year that a Seton Hall nursing student has received a scholarship from this organization.
Babayemi immigrated to the United States from the Federal Republic of Nigeria. Plainfield, New Jersey became home to her, and she knew she wanted to go into nursing because "nurses are essential in preserving the world." Upon more research, she discovered Seton Hall's College of Nursing "and the great reputation they have built over the years. I wanted to have a solid foundation while in nursing school and Seton Hall provided me with a robust curriculum to becoming an outstanding nurse," she said.
"This scholarship means more than a financial assistance to me, it serves as a form of recognition of my academic success, volunteering experiences, and activities as an ambassador for the College," she added. "As the only recipient from Seton Hall, it makes me look back at how far I have come during the last 4 years of my education here."
When asked if she had any advice for incoming nursing students, she replied that getting and maintaining good grades makes you ready and qualified for most scholarship opportunities. "Plus, becoming a member of various nursing and non-nursing associations, as well as partaking in various servant leadership activities also helps since some of these scholarships are only open to members of the association, and your engagement in the society makes you a unique candidate for each scholarship application," she advised.
Babayemi served as Co-Chair of the Population Health Minority Future Nurses Club and was a member of the Black Student Union and Student Nurse Association (SNA). She also volunteered for the Division of Volunteer Efforts (DOVE) during some of their many on-campus events.
In addition, she has served as a caregiver for individuals with disabilities at Total Independent Community Inclusion-NJ, as well as worked as a nursing assistant at a Newark nursing home, Forest Hill Healthcare Center.
After graduating and passing the NCLEX exam, Babayemi hopes to work in a psychiatric unit and eventually obtain a Doctor of Nursing Practice (DNP) with a specialization in child and adolescent psychiatry.
About the College of Nursing
As New Jersey's first college to offer a Bachelor of Science in Nursing (B.S.N.) program, Seton Hall's College of Nursing has educated approximately one-third of all New Jersey nurses and is one of the few universities in the country to be an approved College of Nursing for Army ROTC nursing candidates. U.S. News & World Report ranks Seton Hall's College of Nursing as one of the top graduate nursing programs in the country. Offering educational opportunities from B.S.N. degree through the Doctor of Nursing Practice (D.N.P.) and Ph.D., the College's mission is to educate baccalaureate-prepared generalists and advanced practitioners of nursing who aspire to be innovators and leaders in the nursing profession with a commitment to lifelong learning, service and leadership for the greater good of the global society. Learn more by clicking here.
Categories: Arts and Culture , Campus Life , Education , Health and Medicine